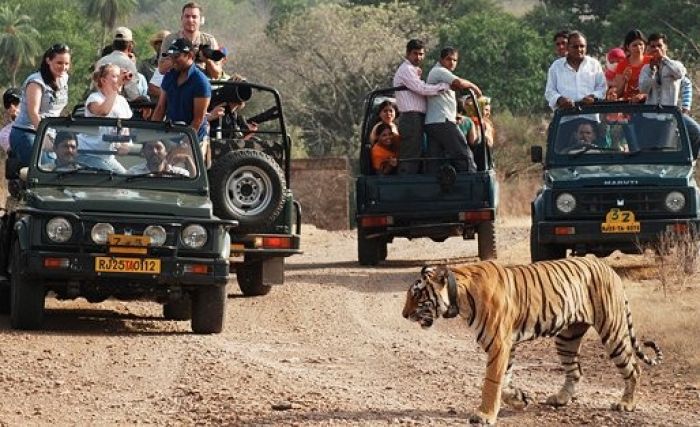 Ranthambore National Park - an enchanting destination of Rajasthan tourism is renowned for its wildlife national park, hills, lush green forests and inimitable wildlife with Tigers. Ranthambore and its natural beauty have been praised by many wildlife lovers who have booked their Ranthambore tour & enjoyed the safari to see the king of the Jungle. The National Geographic has recommended Ranthambore as one of the top wildlife parks of the world. This title brings millions of tourists to Ranthambore national park from across the globe.

Ranthambore is often quoted as a land of tigers because of its sublime greenery & tigers which can be seen here. During October to March the tigers can be seen playing with the cubs or walking in its kingdom. During monsoon it remains closed as per Government orders .Monsoon adds the beauty of nature which can be seen once it gets opened in October .People across the globe start booking their safaris by Ranthambore Safari booking online sites which are easily accessible through the internet. But the bookings get confirmed in October once the new rates are decided.

Ranthambore tour Packages during the winter season gives memorable and pleasurable experiences for tourists who come here from around the world to enjoy the Ranthambore safari. During this season you can listen the tigers roaring in the jungle. These natural sounds enthrall and enchant you and leave you spellbound during your visit. Ranthambore safari by gypsy is the most preferred mode of Game viewing as there are more chances for the tiger sighting. There are many Ranthambore Tour operators who offer complete packages with the Ranthambore tiger safari, Ranthambore hotel & transportation. Nearest airport from Ranthambore national park is Jaipur & most of the people consider a 02 nights / 03 days tour to Ranthambore. People who are on a long vacation include this with their Rajasthan or golden triangle tour package.