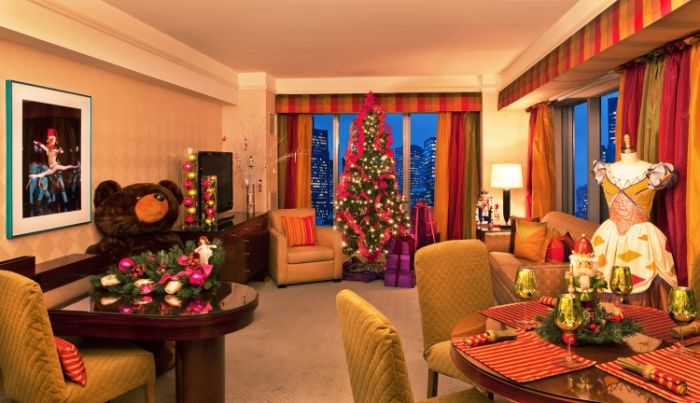 The Ritz-Carlton, Boston Commo
It's officially the holiday season when The Ritz-Carlton, Boston Common decks out its annual Nutcracker Suite, which celebrates the magic and excitement of Boston Ballet's widely-popular production of The Nutcracker. For the third year, The Ritz-Carlton has transformed one of its luxury suites into an enchanting guestroom that's inspired by the colors, costumes and majestic performances of The Nutcracker. The suite was designed and coordinated by designer Michael Barnum of Michael Barnum Studio and Be Our Guest, a local linen and party rental company with hundreds of custom colorful fabrics and decor rentals.
When you enter the suite, you are greeted by a full-size tree decorated by Winston Flowers with soft white lights and Nutcracker-themed ornaments. Beyond a private foyer, the suite also offers a king-size bedroom for adults, a living, dining and sitting area with a giant, larger-than-life stuffed teddy bear, as well as a separate guestroom with two double beds for children.
All of the artwork in the suite has been replaced with color photographs of various scenes from The Nutcracker and there's also a large custom shadow box built to display a jeweled-tutu from the Ballet's costume department. New valences have been applied to the windows in festive candy stripe patterns, and the chairs around the dining table have been swapped out for new ones in coordinating jewel tones.
The Nutcracker Suite is available now through Sunday, December 29, 2013 with rates starting at $995 per evening, which includes:
• Overnight accommodations in the custom-designed suite decorated with holiday trimmings and elements inspired by Boston Ballet's The Nutcracker [suite offers a master bedroom with a king bed; connecting double room is a magically inspired children's room, and living/seating area]
• Teddy Bear tuck-in service with a holiday treat from the hotel's Pastry Chef, Kerry Meister
• Satin pointe shoe, autographed by a Boston Ballet company dancer
• CD recording of The Nutcracker, performed by the Boston Ballet Orchestra and Music Director Jonathan McPhee
• A Sugar Plum inspired bubble bath from the Land of the Sweets drawn by our very own Ritz-Carlton Bath Butler
• Overnight valet parking
The Ritz-Carlton, Boston Common is located at 10 Avery Street in Boston. For reservations or more information, call (617) 574-7184 or visit them online at www.ritzcarlton.com/boston.