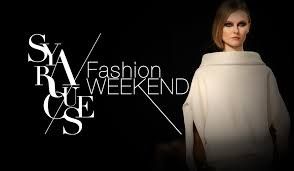 Syracuse Fashion Weekend
Fate may have conspired against the planned Syracuse Fashion Weekend twice, but it seems the third time will most definitely be the charm now that the date's been set to October 11th – knock on wood! Bringing a much needed infusion of fine fashion and haute couture, the Fashion Weekend promises to be a hot event well worth the extended wait.
An international fashion designer from Dubai was booked to travel to Syracuse this spring. The Oncenter Convention Center planned to install a runway. The first ever Syracuse Fashion Weekend was set to debut on April 27.
Then, on April 15, two bombs went off at the Boston Marathon.
The bombings made international news. That's when the meticulously-planned fashion show, the brainchild of 26-year-old Esmeralda Harwood, fell apart.
The event's headlining fashion designer, Walid Atallah, made a last-minute decision not to fly from Dubai to the United States amidst circulating rumors of terrorist attacks in Boston. (Read More)