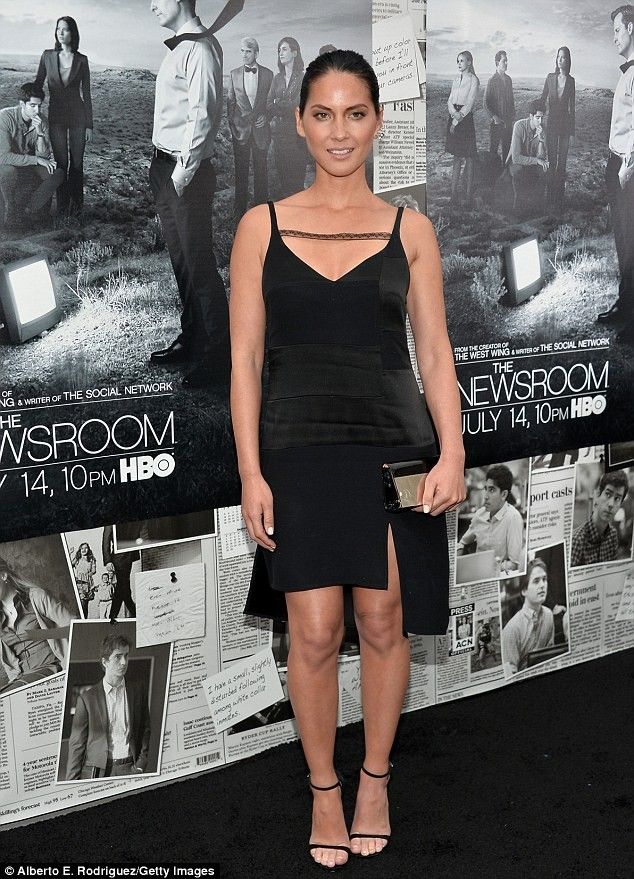 Rodriguez/Getty Images
Appearing on The Tonight Show with Jay Leno wearing a simple dress with a unique sartorial flare, Olivia Munn at first appearance seems to have opted for simple black dress with a high leg-slit, but further inspection reveals a curious anomaly: the pattern rather obviously doesn't match itself! Now, I'm personally a fan of symmetry in fashion, and this particular element makes the dress almost look like an accident, but it's easy to forgive.
She appeared on The Tonight Show with Jay Leno in a coral mini-dress this afternoon.
But by Wednesday night Olivia Munn had changed into a not-so-basic LBD for the season two premiere of The Newsroom at the Paramount Theater in Los Angeles.
The 33-year-old's Chinese-American's knee-length dress featured a unique lacy strip delicately framing her bust-line.

Olivia wore minimal make-up and slicked her raven hair back in a tidy updo, which only drew attention to her single diamond earring.
The second season of the Aaron Sorkin series about the fictional Atlantis Cable News team premieres July 14 on HBO. (Read More)