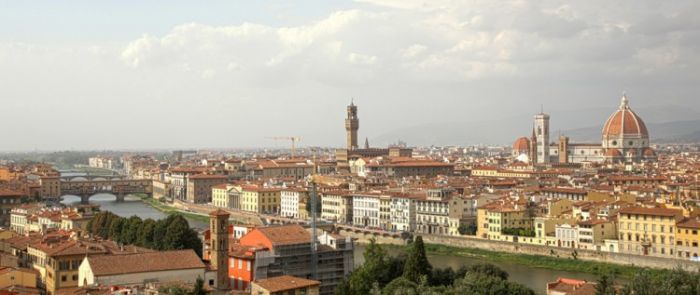 Darkrome.com
When planning a trip to Italy, there are so many sights and cities to see it can get overwhelming trying to choose which ones to include in a single trip. While a tour of Rome is a must, if you're looking to add an element of relaxation while also getting the full Italian experience spend some time in Tuscany. Let's take a look at some of the things that make Tuscany the epitome of Italy.
Montalcino Vineyards:
After a tiring day of sightseeing, nothing sounds better than relaxing with a glass of wine. There are several individual wineries located around the vineyards, soak in the beautiful surroundings by participating in a wine tasting. The Tuscan wineries produce some of Italy's most famous wines. Of course, a wine tasting wouldn't be complete without fabulous cheese. The Montalcino vineyards are home to some of the most authentic Italian cheese and bread. If you want to get a real taste of Italy, the Tuscany vineyards are a definite site to see.
Saturnia:
This small town in Tuscany holds one of the most breathtaking sights in Tuscany. Saturnia is home to the Terme di Staurnia, a natural Italian hot spring. The water is said to have therapeutic assets, there is no doubt a trip to this pool will bring the ideal relaxing day. In addition to the hot spring, this Tuscan town offers plenty of chances to see some amazing natural waterfalls. The views from these natural attractions will be unforgettable.
Grotta del Vento:
This system of caves is something you probably didn't expect to find in Italy. You can be free to wander and explore this underground collection of caves. Stalagmites form figures covering the walls you won't be able to take your eyes off these intricate natural formations. These rock formations sparkle brightly within the caves since they are so rich in minerals. This sight is a great photo opportunity you do not want to skip.
Pisa:
You can't talk about Tuscany without Pisa coming up. This town in the north part of Tuscan is known for the famous Leaning Tower of Pisa, but it has more to offer than just that. There are other incredible sights such as the Duomo's and the gardens. Pisa provides unique architecture with intricate details for you to take in. Stop by the cemetery where upper class citizens were buried for years, the marble sculptures and surrounds make this a spot to see. Take a walking tour through Pisa and you will find many unexpected, not so well known sights you can only find in the Tuscan region.
Italy has so much to offer when it comes to planning what you will visit during a trip. Tuscany will provide some unforgettable sights that you won't want to skip. Don't stress about narrowing your must-see's for a trip, start by having fun in the Tuscan region!
Sarah Murphy has worked in Dublin for the last two years as a blogger, web content manager and marketing coordinator. A journalist by training and traveler by nature, she frequently travels to Italy for the business and pleasure of touring Florence, where she mostly spends her time scavenging the ruins or gallivanting across the countryside.