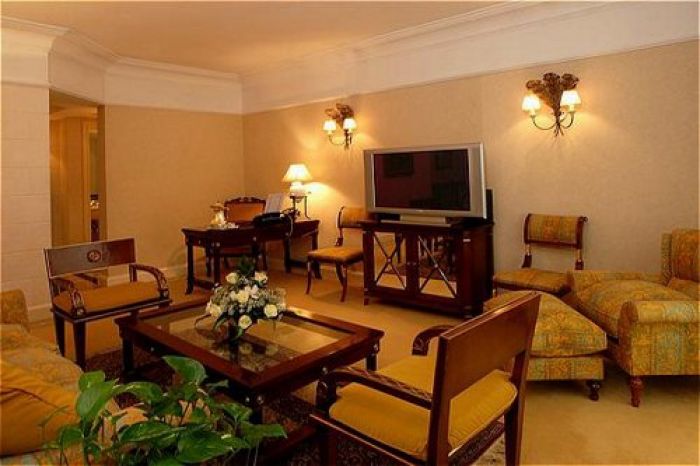 Are you one of those lucky people who can blow thousands of dollars on a fabulous, no-return, one night stay at a hotel? No? Perhaps you're like me, mouth agape at the kind of money these hotels charge for just one night? What's on offer, gold sheets? I want to know. Don't you?
1. Royal Penthouse Suite, Hotel President Wilson, Geneva (US$65,000 per night)
If you're looking for a huge house with 12 rooms with bulletproof doors and windows, panoramic lake views, private elevator and a Steinway grand piano, you've come to the right place. Just one little, tiny, insignificant thing – the rate is USD 65,000 a night.
2. The Presidential Suite, The Raj Palace Hotel, India (US$45,000 per night)
Do you fancy staying at a former Maharaja's residence, complete with gold leaf ceilings and furniture inlaid with ivory and mirrors? Ok, Maharaja, enjoy the royal pool, private museum and panoramic views of India's famed Pink City, Jaipur.
3. Ty Warner Penthouse Suite, Four Seasons Hotel, N Y (US$41,836 per night)
What do you get for US$41,836 a night in Manhattan? That's easy – you get a 400 SQ M penthouse, platinum and gold-woven fabrics, a huge chandelier, indoor-outdoor Zen garden, personal butler, therapist, trainer and chauffeur service.
4. Penthouse Suite, Hotel Martinez, Cannes, France (US$37,500 per night)
Ok, you're in France, got some 40 big ones to spare. What do you do? You spend a night at the Hotel Martinez and live it up in high style with two bathrooms, hammam, spa bath, Michelin-starred restaurant, private beach and much more.
5. Hugh Hefner Sky Villa Palms Resort, Las Vegas (US$35,487 per night)
Don't get excited – we're not talking blond bunnies here. Hugh Hefner has personally selected the racy artwork, indoor pool, rotating circular bed and a huge bathtub for your personal bunnies.
6. The Royal Villa, Grand Resort Lagonissi, Athens (US$34,356 per night)
Your old man left you some quality money? How about With a private butler chef,
pianist, two pools, three bedrooms, indoor and outdoor pools, gym, steam bath and massage room, it's a great way to blow money.
7. Presidential Suite, Hotel Cala di Volpe, Sardinia, Italy (US$32,736 per night)
Sardinia is a treat in itself, but if you've got the money as well? This exquisite suite stands at a height, and overlooks the sparkling waters of the Costa Smeralda. Add a private pool to the mix along with a private gym, wine cellar and more, and your money's somewhat well spent.
8. Villa La Cupola Suite, Westin Excelsior, Rome (US$30,000 per night)
Ok, so if you have 30 K USD, you can stay in this beautiful marble, stained glassand fresco filled suite. There's a private sauna and spa, whirlpool, private cinema and all the other trappings of the rich.
9. Ritz-Carlton Suite, Ritz-Carlton, Tokyo (US$26,300 per night)
Only 26 K USD, friends and not a penny more. Sleep on Frette linen sheet-lined enormous bed, bathe in a huge marble bathroom and enjoy the best view of Tokyo, Roppongi Hills, the Imperial Palace and Mount Fuji.
10. Royal Towers Bridge Suite, Atlantis, Bahamas (US$25,000 per night)
Ok gold cushions, sofas, gold-laden gilt mirrors and all 10 rooms just for your pleasure. If you're all Zen and this kind of splurging makes you start scratching furiously, ignore the foyer made of 4 kinds of marble and private butler.
11. Royal Suite, Four Seasons Hotel George V, Paris (US$24,550 per night)
The entire suite is full of magnificent French antiques, 18th and 19th century fine artpieces, crystal chandeliers and fabulous views. Literally everything that an obscene amount of money can buy.
12. Royal Suite, Burj Al Arab, Dubai (US$18,716 per night)
This no-holds-barred luxurious indulgence costs you 19 big ones but it's worth every penny. There are dedicated butlers, dining areas, whirlpool baths and exotic middle eastern luxury.

Guest blogger Lori works for Adrenalin, an adventure website specialising in gifts for men.