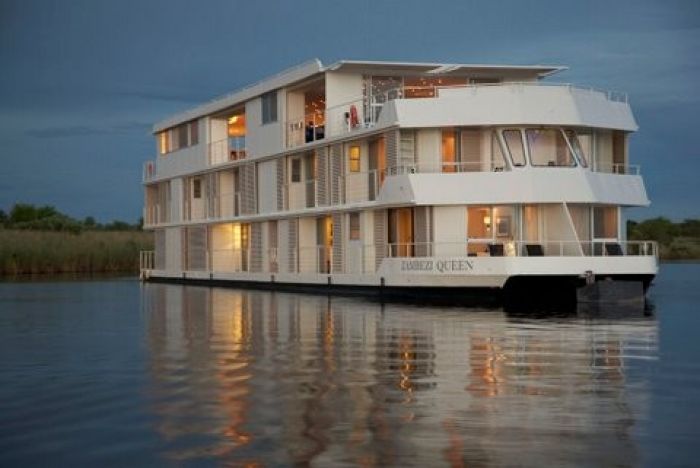 Zambezi Queen
The Zambezi Queen, Southern Africa's first luxury river safari, is hosting Graham Beck Wine's first exclusive wine weekend. Taking place December 20th-23rd, this unique experience allows guests to enjoy the excitement of a safari on the Chobe River while indulging in top quality South African wines in the company of Pieter Ferreira, Cellar Master of Graham Beck Wines.
The chic, contemporary design of the Zambezi Queen set against the backdrop of the African wilderness creates a unique experience that is an ideal location to host the Graham Beck Wine Weekend. The state-of-the-art boat takes guests along Botswana's great Chobe River, which boasts one of the densest populations of wildlife on the African continent.
Throughout the weekend, guests' taste buds will be tantalized with carefully prepared dishes paired with select wines from the Graham Beck Wine Estate, presented by Mr. Ferreira. As part of this special weekend, Mr. Ferreira will introduce guests to Graham Beck's new "Game Reserve" range of wines with tastings of Sauvignon Blanc, Chenin Blanc, Cabernet Sauvignon, Shiraz and Pinotage expertly paired with dishes representative of the region such as bobotie spring roll with banana chili sauce, Botswanan beef fillet or Namibian sole.
Pieter Ferreira, also known as "Mr. Bubbles," joined Graham Beck Wines in 1990. Today he is responsible for overseeing all of the Graham Beck wine production, which produces and stores over two million bottles of premium sparkling wine. For Ferreira, quality is not a destination, it is a continuous journey; "I'm still in search of the perfect bubble – until then, I'll keep refining."
In addition to a weekend of delicious meals and exquisite wines, guests will have the opportunity to take in some of the best wildlife viewing in Africa from the quiet comfort of the Zambezi Queen. The area is teeming with game, including approximately 120,000 elephants and over 400 species of birds. For guests that would like a closer look at the animals, they can enjoy sundowners on the Zambezi Queen's small tender boats that are ideal for water-based game viewing.
Graham Beck
Featured Graham Beck Game Reserve Wines
Zambezi Queen
View from the deck