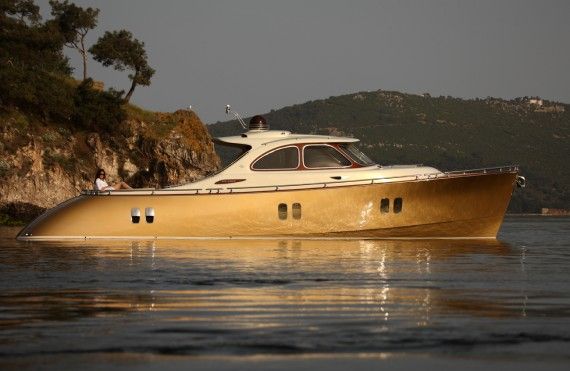 Zeelander USA
 In the province Zeeland, the Netherlands during 2002 a wealthy patron had the dream to build a stunning yacht. The key desired elements were easy to list but hard to achieve: breathtaking beauty, timeless design, great sea keeping, unusually quiet while running at speed, minimum maintenance, easily handled, and constructed to last of quality materials.
The patron was relentless. All of these elements were essential. None could be excluded. Thus began an eight year quest to design, test, build, test, refine, test, and finally produce the Zeelander 44. Many hurdles were overcome: the best fluid dynamics engineering was brought to bear on the hull (which went through years of testing before being perfected). The Dutch super-yacht designer Cor D Rover was commissioned and penned a classic yet modern shape, bereft of straight lines that received instant global recognition. The world renowned engineering company Silent Line was contracted to find and banish sound and vibration. The most high tech materials were sought or created to relieve the burden of varnishing and two-parting teak so the Z 44 could look wonderful at all times, and be economically and easily maintained. One by one the seemly impossible requirements for the Z 44 were met and often exceeded.
Finally the Z 44 was fully realized, and the end result was better than originally envisioned. The first few hulls produced created a real stir in the Netherlands where salty and beautiful yachts are greatly appreciated. As a result the decision was made to produce this yacht, not just a few copies for the patron and his friends, but in modest quantities for discriminating yachtsmen around the world. A search was mounted on where the Z 44 could be best produced. No parameters were allowed to compromise this decision, so every major yacht building country was put under scrutiny. Holland, Italy, Turkey, England, and China were all considered, but eventually each had major flaws: strong currencies that made producing the Z44 too expensive, inexperienced workforce when craftsmen were needed, lack of sub contractor and luxury material suppliers, poor legal and regulatory standards, etc. One by one the countries under consideration failed inspection, but quite surprisingly, one country stood out…
America
At a time when all the talk was of manufacturing leaving the USA, Zeelander saw an opportunity here. The dollar was fairly priced; the US has a large and storied history of building yachts, a myriad of potential suppliers, a workforce trained in building yachts, and several shipyards interested in producing the fascinating new Zeelander 44.
The search for a US shipyard was on, with many considered, and several found that had outstanding characteristics. But one shipyard really stood out, and amazingly enough it was in Holland….Holland Michigan (right next to the town of Zeeland)! The shipyard was S2, Tiara's shipyard with 900,000 square feet of floor space, a trained and skilled workforce, a Dutch family yacht building tradition, three generations of family at work, and a "handshake" deal making mentality. The Dutch from the Netherlands found the ancestral Dutch in Holland, Michigan of like mind, a bond was formed, and in April 2011, production was begun at S2. The resulting Z 44's produced there meet the original Patron's criteria, with the added benefit that parts and service will be readily available across the nation. 
Chris Holtzheuser, President of Zeelander USA commented, "We are so very pleased at the quality and experience that S2 has been able to so very quickly bring to bear on our Z 44. The focus and passion of S2 has been evident from our very first discussions a year ago, and we are well ahead of our original schedule thanks to their efforts."
The Zeelander brand is marketed exclusively by MarineMax, the nation's largest recreational boat and yacht retailer, with 54 retail locations in 19 states. Zeelander expects to have stock Z 44's in over a dozen MarineMax locations before the end of 2012.

Bob Fritsky, Vice President of MarineMax Yacht & Brokerage said, "The MarineMax team is very excited about the Z 44 partnership. S2, Zeelander USA and MarineMax have been able to seamlessly integrate a complex move from Europe to the USA while making a smart European product US compliant, US sourced, and US serviced. It is ideal for our clients, quite literally the best of both worlds. www.zeelander.com
Zeelander USA
Exterior
Zeelander USA
Cockpit
Zeelander USA
Interior Cabin
Zeelander USA
Bathroom
Zeelander USA
Exterior Dining
Zeelander USA
Interior Cabin
Zeelander USA
Exterior
Zeelander USA
Exterior Night
Zeelander USA
Exterior