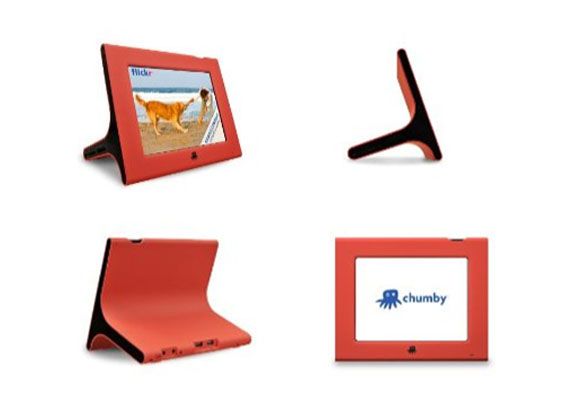 Photo Courtesy of Chumby
With a sleek modern industrial design, an 8-inch 800×600 LCD touchscreen, robust features, and over 1,500 free apps, the chumby8 is one of today's hottest gadget gets. This diverse device, which retails for $199, takes your favorite parts of the Internet and delivers them to you in a friendly, always-on, always-fresh format.

chumby8 is a window into your online life that lives outside your desktop, so content like weather, photos, status updates, news headlines, music and more has a readily accessible place to play away from your world of documents and spreadsheets.


chumby8 can be used as a digital photo frame, music player, alarm clock or just a fun piece of background décor delivering a personalized stream of your favorite apps. Use it to fall asleep to your favorite music or news podcast after a long day with over 10,000 Internet radio and podcast stations to choose from, including Napster, Pandora, SHOUTcast, iheartradio, Mediafly, New York Times and CBS. Use chumby8 to consult your Google Calendar in the morning, check the weather, watch your photos stream by on Flickr, follow your friends on Twitter, update your status on Facebook or get alerted to that great find on craigslist you've been waiting for.

The chumby8 comes preloaded with ready-to-play themed channels showcasing the best Chumby apps in entertainment, news, humor, games, kids, and sport, among others. What's more, Web browser support allows users to access links within apps, and chumby8's share features make it easy to send photos, videos and apps to friends and family.

Using the device couldn't be easier. Just plug in your chumby8, connect to your network, and create a lineup of favorites from over 1,500 free apps in 29 categories, with new options being added regularly. Then let your chumby8 do its thing— streaming everything you like, from sports scores to stock quotes, from video clips to interactive games, from photos to trivia. Content is available from well-known media sites including: YouTube, Facebook, Twitter, MTV Networks, Groupon, People.com and many others. Two USB ports, CF and SD slots make it possible to upload pictures, music and other personal media of your choosing, turning your chumby8 into a personalized digital photo frame and music player. You can also create customized chumby8 covers.

Learn more about this exceedingly able appliance online at chumby.com.

~~~ ***Some or all of the accommodations(s), experience(s), item(s) and/or service(s) detailed above were provided at no cost to accommodate this review, but all opinions expressed are entirely those of Merilee Kern and have not been influenced in any way.***