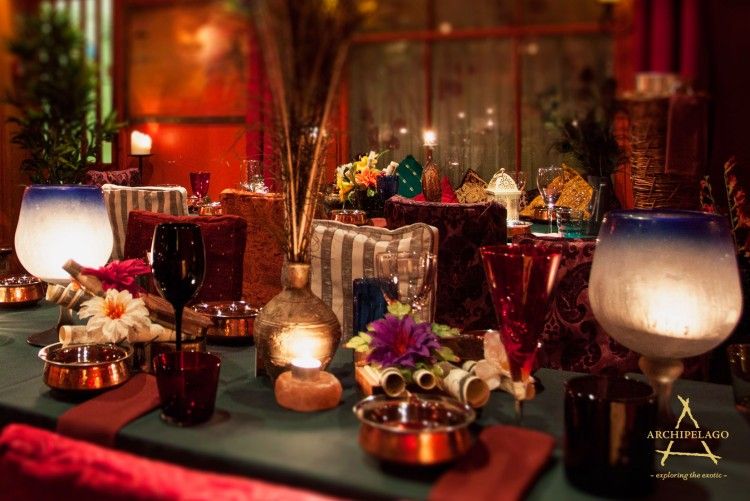 Archipelago
With such a fantastically diverse range of eating establishments in London, it's a shame to plump for the familiar. Sometimes a change is as good as a holiday, so why not try out some of the capital's cutting edge cuisine? Whether you're looking for a romantic evening that you'll never forget, an exciting night out with friends or you just want to see a whole new side to the capital city's cuisine, check out our three top unusual London restaurants…
Archipelago, West End
If you consider yourself daring when it comes to trying new food and want to prove it then Archipelago is most definitely worth a visit. Not for the faint-hearted, Archipelago promises to take you on a 'sensory dining journey' of exotic global cuisine, and your worldwide adventure will begin as soon as you arrive.
Sitting among palm trees, golden Buddhas and striking tribal artwork will immediately transport you to a far-flung location – and that's before we've even got to the food. One of the good things about the Archipelago menu is that it can be enjoyed by everyone, from those who wish to become true gastronomic pioneers, to those who'd rather stick with what they know.
Examples of trademark Archipelago dishes are the Hot Marsupial (marinated kangaroo skewers with candy beetroot and guindilla salad), Cayman Islands (crocodile wrapped in vine leaves with poached plums and samphire) and Peruvian Jumper (jerked alpaca with cornmeal slice and plantain fritters). For the especially daring why not try the chilli and garlic locusts and crickets, or meal worm faux caviar??
For vegetarians and those who just fancy something a bit more traditional, you can always go for the Malayan Grain (Malaysian spiced risotto with Asian veg), Punjabi Cossack (seared paneer cheese with mushrooms, beetroot and saag aloo fritters) or the Saigon Seduction (Massaman chicken two ways, almond butter with roasted cashews).
However brave your palate is Archipelago offers such a variety of globally-inspired ingredients that you are bound to find a dish that is perfect for you. With a focus on organic, free range and ethically fared ingredients, a meal at Archipelago can take you on an exciting, unexpected, and above all, delicious culinary adventure across the world.
Circus London, Covent Garden
If you like to be entertained while you dine then a visit to Circus London is certainly in order. From the moment you arrive through a hallway of kaleidoscopic mirrors to find yourself in a main room of mirror balls and harlequin-decorated walls you will get a sense of the type of evening that's in store.
Circus incorporates a restaurant, lounge and bar area, so if you're in the mood for cocktails and canapés with a special someone you can find a secluded corner in the low-lit lounge area. If you're with a group why not sit alongside the 'stage table' where you'll have a superb view of the nightly entertainment?
As its name suggests one of Circus's main draws is its unique and lively entertainment, which is designed to be 'inviting, intriguing, weird and wonderful'. That it certainly is, and while there is always an air of mystery about each night's acts, you can expect to see a variety of extremely talented circus performers (think acrobats, dancers and surprise guests) throughout your evening.
The fabulous cocktails and vibrant entertainment set the standard for the food at Circus and it's a safe bet to say you won't be disappointed with the superb Pan Asian dinner menu. Favourites include the Chilean sea bass with chilli beans, black beans, garlic and ginger, the blow-torched salmon nigiri with pickled ginger, the aubergine and chilli crusted tofu with toban yaki, and New York strip loin on hot rocks with teriyaki. An exciting mix of delicious food, great service, fabulous cocktails and exceptional entertainment all combine to make sure an evening at Circus is absolutely unforgettable.
Les Trois Garcons
Les Trois Garcons is a converted Victorian pub in Shoreditch which is lavishly decorated in a fabulously eclectic way; chic vintage handbags and crystal chandeliers hang from the ceiling, showy costume jewellery drapes the walls and stuffed animals perch alongside the bar. The crazy décor means you certainly won't be short on talking points while dinning here, but the sense of eccentricity is nicely offset by the classical French menu, which boasts a subtle modern touch and a hint of British influence.
Popular dishes include the guinea fowl breast with ginger and green bean and pancetta parcel, poached chicken and lobster, Jerusalem artichoke and hazelnut risotto, and salmon with spinach, Dauphinoise potatoes, samphire and a champagne butter sauce.
The food, like the décor, is inspired by luxury so it's advisable to make sure you're hungry when you come for a visit! Using only the best seasonal ingredients and with many organic dishes Les Trois Garcons doesn't cut any corners. Perfect for an unusual and memorable date, stepping into this unique restaurant is like stepping into a hedonistic fairy tale, and is a treat for the eyes as much as is for the taste buds.
Archipelago
Archipelago kangaroo skewers
Circus London
Circus London
Circus London
Circus London sea bass
Les Trois Garcons
Les Trois Garcons
Les Trois Garcons
Les Trois Garcons