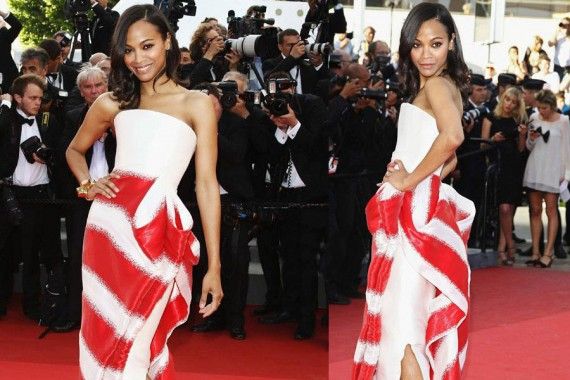 It?s well known that celebrities are always trend setters. They wear irresistibly exquisite dresses for high-end bouquets or award ceremonies. Soon after that, you will be able to find lots of replica gowns in both online and local fashion clothes stores. Certainly, it?s the privilege for each girl. You do deserve an appealing look. So, which prom dresses will lead the trends in 2012? Probably, you will be inspired by below prom gowns worn by well-known celebrities for red-carpet occasions. They are considered to be top 10 elegant dresses in the fashion industry.
Top 1: Giorgio Armani Prive Prom Dress
It?s worn by Zoe Saldana for the Cannes Film Festival in 2011. Zoe was present at the premiere of The Tree of Life. Strapless neckline is a natural style that greatly emphasizes the wearer?s sex appeal. White feels rather innocent. But matched with dazzling red, bold and gorgeous fashion sense gets accented undoubtedly. Side-open pattern breaks away from fixed vogue rules!
Top 2: Givenchy Prom Dress
This is Cate Blanchett. You won?t feel strange about her, right? She wore this prom gown from Givenchy for the 2011 Oscar Award Ceremony. The color of lilac feels rather romantic. Beads become wonderful embellishments for the square neckline look. Seeming both traditional and also unique, Cate perfectly expressed mature appeal for females.
Top 3: Naeem Khan Prom Dress
It?s worn by Rosie Huntington-Whiteley for the premiere of Transformers 3: Dark of the Moon in Berlin. Undoubtedly, it greatly enhanced the wearer?s femininity. Backless is undoubtedly one of the best styles to make a girl seem sexy. Plus the twinkling color, the dress does not only perfectly flatters the wearer?s slim body shape, but also makes her seem irresistibly graceful.
Top 4: Atelier Versace Prom Dress
Angelina Jolie is a fan for Atelier Versace. This pretty girl wore this prom dress for the Golden Globe Awards in 2011. The dress is an ideal combination between classicalism and boldness. Off-the-shoulder neckline looks great with the half backless style on the back. But what?s the most eye-catching is still the color. Seldom will you find a girl looks great with this color. But Angelina achieved this. Don?t be closefisted to applaud for her!
Top 5: Jean Paul Gaultier Prom Dress
Nicole Kidman ideally expressed her rich fashion taste via this prom gown from Jean Paul Gaultier. She wore this dress for the Grammy Awards in 2011. She absolutely did a good job in bring something fresh to the current fashion world. Strapless neckline style is decorated by floral patterns, seeming more chic and luxurious. Exquisite flowers covering the whole dress look great with the trumpet silhouette. Every breath taken by the wearer will be graceful!
Top 6: Giambattista Valli Prom Dress
Giambattista Valli prom dresses are considered to be great choices if you want to flatter something luxurious. Certainly, Emma Stone is also attracted by the gorgeous sense on these gowns. She wore this one for the premiere of Friends With Benefits in New York. There, she stole the show by an understated yet chic clothing style. As we all know, exaggerating elegance has no longer been loved by many fashion-conscious females. Here, when pink collides with red, fresh appeal is created. Without anything additional, the dress seems rather simple yet exquisite, glossy and unique.
Top 7: Antonio Berardi Prom Dress
It?s a big pleasure for Antonio Berardi since Freida Pinto is also willing to pick out a dress from that rich collection for a red-carpet situation. But meanwhile, it?s lucky for Freida to find this one since it does make her seem so appealing here. She wore this one for the premiere of Immortals in Los Angeles. Like the color of white, a figure-flattering silhouette won?t go out of fashion either. Mermaid style is matched with hollow-out halter neckline. The wearer is made to seem even slimmer.
Top 8: Donna Karan Prom Dress
Nina Dobrev draws most attention by her charming appearance and also luxurious taste for beauty. She wore this Donna Karan prom gown for the Emmy Awards in 2011, which helped her charm the crowd undoubtedly. Dark red always feels rather bold. Pretty flowers are designed around the hemline. But sweetheart neckline pattern and backless look on the back make the dress feel much more moderate instantly.
Top 9: Christian Dior Prom Dress
Chinese actress Ziyi Zhang has gained great reputation on the worldwide film arena. She is absolutely a devotee for Christian Dior. She wore this dress from Dior for the premiere of The Greatest Love in Roman. Light green prom dress ideally flatters her complexion. Understated style of the dress and up-do hairstyle makes this Chinese girl seem irresistibly graceful and aristocratic.
Top 10: Elie Saab Prom Dress
If you are fashion conscious, you must have already detected that Amber Heard also stirs up a big tide in the fashion industry. Since she wore this Elie Saab prom gown for the premiere of The Rum Diary in Los Angeles, most girls felt fascinated about the delicate sense expresses on this dress. It?s easy to discover the finishing touch for the entire gown is its side-opening look. Making the girl seem rather sexy and wonderfully flattering her slim body shape, it?s a great choice for girls who want to seem mature yet not excessively sexy.
Every girl deserves a charming appearance. When the climate becomes warm, have you already found your really desired dress for 2012 summer? Katherine operates a wedding website. Maybe, you will be inspired by fashion ideas shared there.