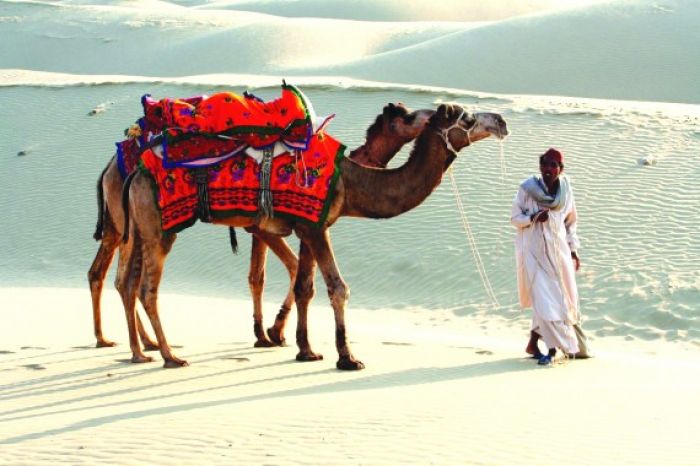 Looking for a destination for the most electrifying vacations in India? If it is so, then you must opt for Rajasthan Tours. This tour offers something exclusive to all. One experiences thrilling wildlife at one point and exploring historical monument at the other. Moreover, it is one of the enchanting northern zones of India as far as luxury holidays are concerned. Its forts, palaces, havelis, mansions, heritage hotels, luxury trains, and wildlife destinations will inevitably flock millions of touristís mind.
Here is a list of 10 must-see attractions of Rajasthan.
Amber Fort
One of the wonderfully made and magnificently established, Amber Fort is the most fascinating attraction of Jaipur, the capital city of Rajasthan. Nestled in Amer town, it comprises Sheesh Mahal, embodying exclusive glass works.
Hawa Mahal
Another fascinating limelight of Rajasthan is the Hawa Mahal or Palace of Winds, outstandingly stunning masterpiece located in Jaipur. Well, it is luxury in terms of architectural point of view. So, one should witness it while on Rajasthan Travel.
Lake Palace
Nestled in a mesmerizing city of Udaipur, Lake Palace is one of the gripping tourist wonders noted for its absolute architectural beauty. The view of sunset exploring from this palace is truly fascinating.
City Palace
Built with delicate stone carving and frescos painted walls, City Palace is an astounding landmark situated in Udaipur. This lovely building is quite enormous, encompassing few alluring palaces inside it.
Monkey Temple
An exclusive destination, Monkey Temple is one of the spiritual attractions located in Galta, at a distance of 3kms hike from the east of Jaipur. A reservoir or a tank lies on its top which is filled with pure water, dropping from a Gaumukh or the mouth of a cow.
Jantar Mantar
Jantar Mantar of Jaipur is an exceptional planetary observational device. It can predict the running movements of stars, moon and clouds. Being an exotic device, it becomes a major tourist spot in Jaipur.†
Mehrangarh Fort
A striking destination, Mehrangarh Fort is an amazing historical monument known for housing several beautiful palaces that are exclusively adorned with delicate carvings. Also, it has a huge museum, comprising a large collection of ancient imperial articles on its display.
Choki Dhani
Located in an extension of Jaipur, this traditional restaurant serves plenty of royal dishes to the guests. Get an experience of authentic food, by visiting to the Choki Dhani resort. It offers a dazzling experience for all senses.
Nahargarh Fort
One of the ancient landmarks, Nahargarh Fort is the most sought after royal building when one is planning a honeymoon in Jaipur. Beautifully decorated, this fort is truly charming by its looks.
Elephant Festival
Witnessed by millions of tourists, the Elephant Festival is the most important feature of Rajasthan Tourism. This festival is held in the beautiful pink city of this state in the month of March. So, it bears as a religious festival of India.
Well, if you are impressed with these destinations, then donít spend time in thinking, avail Rajasthan Tour Packages right now!