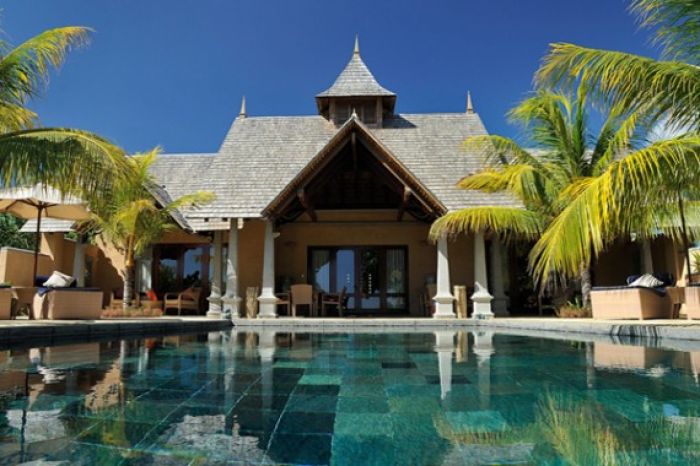 Mauritius with its endless pristine white sandy shores backed by lush rainforest is one of the world's most popular tropical retreats. You can spend your days lazing on the beach or pool or going shopping in the capitol Port Louis, either way there is much to do on this island that you will not get bored.
With Mauritius being such a tourist hot spot the amount of hotels and resorts on the island has exploded and there is now so much choice on where to stay on all budgets. One sector that has really taken off is the luxury resorts. With so many to choose from we thought we would supply you with our top 5 luxury resorts in Mauritius.
Maradiva Villas Resort & Spa
Located on Flic en Flac beach the Maradiva resort and spa is the in ultimate five star resorts in Mauritius. Winners of the 'World's Leading Island Resort' you can understand why cold impersonal rooms are not allowed here and have been replaced with individual luxury villas. Each villa is provided with 24 hour private butler service, private plunge pools and outdoor showers, and obviously all the other creature comforts come as standard here as well.
The Residence
This resort boasts as much luxury as it does style with the resort inspired by colonial mansions and plantation houses. With lush greenery one side of the resort and pure white sand the turquoise blue waters of the Indian Ocean on the other you are always surrounded by the beauty of the island. With all rooms offering you a personal butler service you may just want of them to get you a home-made ice cream to help you cool down whilst watching the waves break on the beach from the comfort of your private balcony.
LUX Belle Mare
Recently renamed to the LUX Belle Mare this new concept of a resort is 5 stars all the way, with a perfect blend of luxury and blissful relaxation.  This stylish resort is known for its amazing Indian Ocean hospitality where you can choose your own dining location and spa treatments how you like it rather than just what is available from their menu. All this whilst set on an endless white sand beach; you may have just found paradise.
St Regis Mauritius
The St Regis Mauritius is a new player on the luxury resort list – it does not open until 15th September 2012. As the St Regis will be brand new you can expect all the facilities to be untouched and shining. With all rooms featuring a sea view you do not have to worry about spending even more of your hard earned cash to sit on your private balcony with a cocktail to watch the sun go down.  Set on Le Morne Beach and it's turquoise lagoon this is the setting you want from any luxury tropical holiday.
20 Degrees Sud
20 Degrees Sud is not your typical large luxury resort, but a boutique hotel set on the ocean's edge. Surround by coconut groves and the turquoise blue sea this family run hotel has everything you will need and then some. All rooms feature a private pool or Jacuzzi so there is no rush to put your towel down before breakfast to grab a sunbed for the day, or you can even use the hotels yacht for a day cruising around the island to find your own private peace of heaven.
Wanderforth luxury holidays.