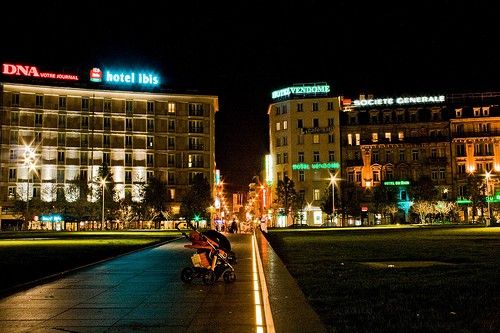 The only problem with visiting Split is that you can never get out to all of the fascinating facts and sights in just one visit. The kind of sights that you would like to see will naturally vary according to what your tastes are, as not everyone enjoys the same kind of thing. Thankfully, Split is diverse enough for anyone to find something that will steal their heart away. From panoramic flights to art galleries, Split has it all. So keep reading if you need a bit of guidance in choosing your points of interest on your first visit to Split.
Diocletian's Palace
This world heritage site is a must for every tourist. The ruins of this emperor's palace are close on 2000 years old, but are still in remarkable condition. Very few people are aware of the fact that Croatia was a Roman hub in the past, and this fascinating destination will whet your appetite regarding the history of Split. It is a very old city in itself, but having a bit of background knowledge will help you appreciate your surroundings a bit more.
Brela Beach
Brela is known for pristine pebble beaches, remarkably clear water, and an intense but beautiful forest that runs around it. It has more of a lake feel than an ocean, which ensures tranquil reflection. It gets quite busy, but there are a number of secluded spots that you can enjoy, should solitude be your goal.
Hvar Island
Travelling to picturesque Hvar is highly recommended. Not only will you get to enjoy a relaxing boat ride, you will also be delved into the past on the island itself. Yachting is a popular activity, but if you want something at a more sedate pace, then why not take a leisurely stroll through the old city? The residents are
Fruit's Square
This is a quirky and unusual destination that tourists simply adore. Being in a market atmosphere gives you a real insight into life in Split, and because of the beautiful location, it is a family-friendly spot that you can relax in. A picnic of fresh fruit is highly recommended, particularly in the warm Croatian summer. If you are in search of the real Split experience, which so many travellers nowadays are, then Fruit's Square is a must!
Marjan
One does not readily associate Split with mountains, but Marjan is most definitely a stand out feature in Split. Once again there is the option for sailing and yachting, which attracts a lot of attention, but the mountain itself offers you an unbeatable view. Hiking is popular, so why not pack a picnic basket, head on up, and take in nature?
As you can see, there really is a broad array of activities, sights and experiences on offer. All that you can really do is come back over and over again to make sure that you get your full dose of beauty, history, culture, and please. We are waiting.
To find out more about them visit: http://www.gothereguide.com/split-city/.