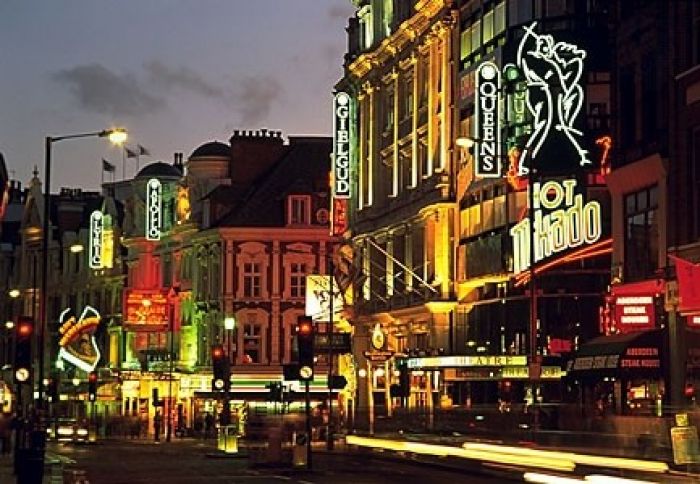 When thinking about your London trip and what to see and do... Buckingham Palace, the Tower of London... don't forget to add the West End Theatre district to your must see list. The world's oldest and largest Theatre district; London's larger version of America's Broadway is definitely one of the top 5 places to visit in the city. Visit Boxoffice Tickets online before your trip to see what's playing and you can plan your other sightseeing around the performances you want to see.

The West End's atmosphere is a show unto itself. The cafes, restaurants and bars are always abuzz before and after the exhilarating live musicals and plays. The music can be heard coming from the venues as you walk the streets. You can hear actors voices as you pass. Simply "people watching" as you sit at a cafe with a good pint is great "warm up" entertainment before you attend a show to be thoroughly entertained.

Though there are sporting events and other attractions in the West End, the Theatre District's true heart lies in the live performances taking place every day and night throughout the year. There is a show to entertain everyone. From live musicals with huge ensemble casts to a one man performance where 42 different characters are played by the same actor, you have the whole spectrum of theatre to choose from. One can find comedies, fringe shows, celebrity revivals and more.

A Boxoffice ticket is any easy online way to secure your ticket for any performance. Though same day tickets can be bought at some venues, to guarantee availability and the seats you want, it's best to buy tickets ahead. Boxoffice Tickets makes it an easy process. For U.S. visitors or other Broadway goers, the ticket prices for London's performances will be a pleasant surprise! Be sure to read up on the "lingo" regarding seats if you aren't a regular theatre goer. For instance, a "slip" is a cheap seat along the edges, but in a lot of the small theatres, you can't find a bad seat.

From anywhere in London, the Theatre District is very accessible. The Tube, London's underground mass transit, has three lines which have stops near the West End theatres. So what are you waiting for? Get to London and purchase your tickets to the latest smash shows in the West End from Boxoffice tickets today!