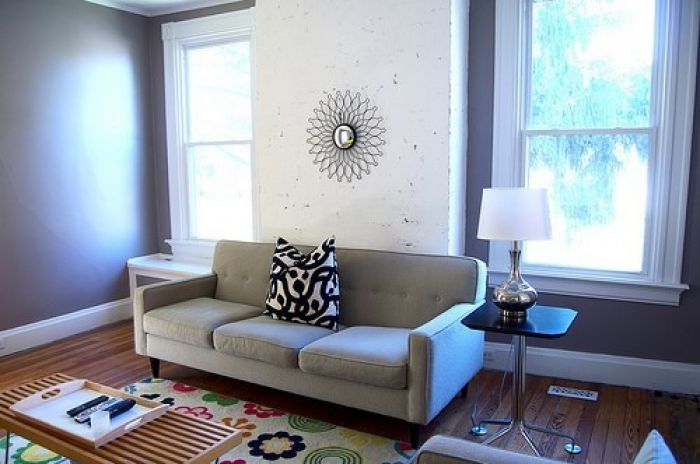 Image via Flickr by emily snuf
Warm weather calls people to get out of their homes — and to get stuff out of their homes as well, which is why summertime is a golden opportunity to find secondhand treasures. Whether you're looking to spruce up your home or outfit your family, yard sales are a great place to look for what you need. Here are 8 items that are usually easy to find at yard sales for a pittance compared to their regular retail value.
8. Home Decor Elements
There are oodles of cool decor elements and other items you can find at yard sales that are perfect for beautifying your home. Homemakers are always tweaking or completely re-envisioning the little details that add up to make a big impression, and the items that they decide to discard go straight into their yard sale. You'll find items like candle holders, table runners, mirrors, and whatever other decorative items you can image.
Also, if you're a DIY home decorator, yard sales are rich source of material that you can repurpose for your home. With a little vision and a few dollars, you will surely add to the beauty of your living space.
7. Entertainment and Media
At almost every yard sale, you'll find a selection of books, CDs, and DVDs. You can find an old movie that you forgot you loved, or you can discover new music to delight your ears. Why go to the book store when you can fill your need for fiction at a fraction of regular retail price? Yard sales have a variety of entertainment options for both children and adults.
6. Quirky Pieces of Furniture
Furniture is something that most people want to buy new. If you know where to look, however, yard sales can provide you with most of the furniture you need to create a comfortable home. Sellers are usually desperate to get unwanted furniture out of their home, because it takes up so much space. This provides buyers with the power to strike an amazing bargain, especially if you go near the end of the day.
Put wooden furniture especially high on your target list for yard sales. It usually won't take too much work to make it look brand new. If you need a rocking chair, coffee table, end table, or any other piece of wooden furniture, secondhand is the way to go. Use caution when looking at upholstered furniture, though. Inspect it thoroughly, and don't be embarrassed to give it a good sniff. You don't want to buy anything that comes with its very own stink.
5. Kitchen Gear for Gourmet Cooks
If you want the kitchen of a gourmet chef or just want the basics, yard sales will be able to provide what you need. When people take inventory of all the stuff, things, and gadgets in their kitchens, they find things that they bought but seldom, if ever, used. Quality items like Pampered Chef gear, along with nifty kitchen novelties, are just a few examples of the magnificent steals that inhabit yard sales.
Keep in mind that just because a kitchen item is old does not mean that it is going to fall apart the moment you try to use it. Some older items were constructed well enough that their usefulness will last more than long enough for it to be worth the few dollars you will pay for it at a yard sale.
4. Barely Used Fitness Equipment
Big exercise equipment like treadmills, ellipticals, and stationary bikes are some of the first items to go when people want to create more space in their homes, especially if the equipment is not often used. When you're exploring yard sales, however, do not buy the first piece of equipment that catches your eye. Ask the seller plenty of questions, and see if you can try the equipment out before making the purchase. You don't want to end up with an unused space-hogging eyesore in your own home.
Smaller fitness equipment is also something that is not difficult to find at yard sales. Things like hand weights, resistance bands, and medicine balls are often sold. With some patience and a keen eye, you can build your home gym for a price you can take pride in.
3. Nearly New Baby Gear
If you have a brand new family member either in your home or on the way, you already have enough to pay for without having to worry about the cost of buying brand new gear for your precious bundle. Since babies grow so quickly, items designed for them usually outlive their usefulness. This means that parents can find nearly new baby gear for great prices at yard sales.
Most people go to yard sales for discounted clothes or materials to make costumes. Another affordable alternative to a yard sale is to utilize the Internet. You can find a variety of baby costumes or even something for yourself at a fraction of store prices online.
2. Almost Unused Children's Stuff
When your baby grows a little bigger, you can still find great stuff for him or her at yard sales. Clothing is an obvious one; children usually outgrow their clothes before they wear them out. Besides clothing, you will come upon games and toys, some of which have hardly been touched. For games especially, take the time to make sure that all the pieces are there and nothing is broken.
1. Beautiful Photo Frames
Photo frames are yet another thing to keep your eyes open for at yard sales. People often dispose of these because of clutter issues or because they clash with certain decor, not because they have lost their usefulness. You can find frames that are artistic or simple, big or little, vintage or modern, to put your outstanding photos in.
The uses for photo frames go even further. They make great gifts, with or without a picture inside. If you find frames that are the right size for certificates, you can put your children's school awards in them or even make your own awards to congratulate your children when they accomplish something new or reach a milestone.
Before you head to the mall, head to your local neighborhood yard sales. You will find useful items at great prices and help to cut down on waste.