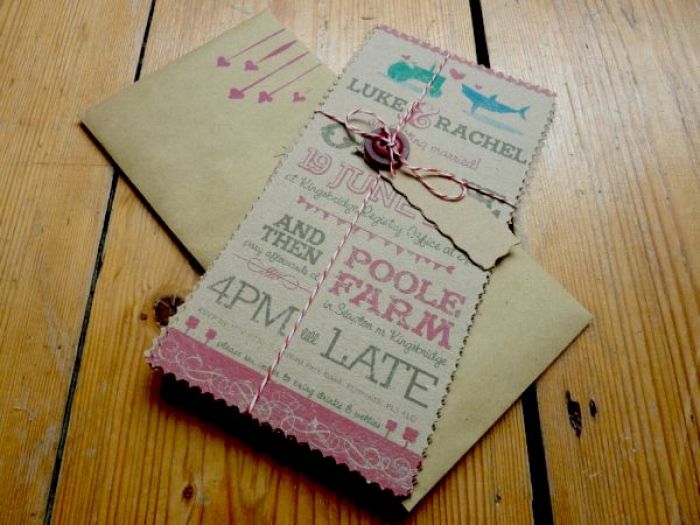 SixteenEighteen
Weddings are a great excuse to get inventive and showcase your creative side, so why not try these increasingly popular ideas for unique invite ideas to give your guests a treat and a giggle? They'll be all the more pleased to clear their calendar in anticipation of what other tricks you might have up your sleeve!
Musical Invitations
…In the form of a CV or vinyl record maybe? You can choose tracks that relate to you and your fiancé personally and choose a cover that suits you to detail the date and venue of the event. Maybe even a photograph of you both pulling shapes and wearing wigs a-la ABBA. It's the perfect opportunity to get silly, or creative, or both!
Travel Themed Invitations
If you're the jet-setting type, why not add a personal touch to the style of your invitations by having them imitate plane tickets? You can include the date as a serial number and invite your guests to be passengers! This is a really fun take on conventional invitations and you can even add in little bits and pieces; for example a little repurposed in-flight safety manual.
Photobooth Invitations
A sweet and candid way to approach people whilst showcasing your creative side! You and your other half can take photographs of yourselves holding up signs which depict pictures and words as to the location and date of your wedding; whilst including cheeky shots of pets, funny faces and weird costumes.
Scratch Card Invitations
You can have these made to order and design your scratch panels to reveal details of your special day when your guests rub a coin over them. A nice interactive alternative to traditional invitations; a scratch-card invite will have everyone joining in on the fun, even if they can't make it!
Message in a Bottle
Take your invitees back in time with an old-fashioned take on classic correspondence. Print or write your chosen message on a sheet of recycled paper or parchment, roll it up and encase it in a decorative bottle. You can even create fancy labels for your bottles for an added personal touch.
Balloon Invitations
Everyone loves balloons! So get people into the party mood by printing your chosen message onto the front of a balloon and send it inside a decorative card for your guests to inflate and enjoy! You could pick the colour of the balloons to correspond with your chosen wedding colour theme to give your guests a little taste of what to expect on your big day!
Chocolate Bar Invitations
By sending out sweet treats to advertise your nuptials your guests will have a great time RSVP-ing whilst devouring your edible invite. Have the labels printed with the details of when and where you'll be hosting the event and maybe include a little sachet of hot chocolate with each one! After all, who can say no to personalised sweets?
If you have any ideas of interesting ways to invite your guests to your wedding feel free to share them in the comments below!
Elise Lévêque is a world-wise freelance translator and bride-to-be with a penchant for the unusual and the eccentric. She writes for goodheart gifts when she isn't lost under a pile of wedding magazines.
SixteenEighteen
Invitation