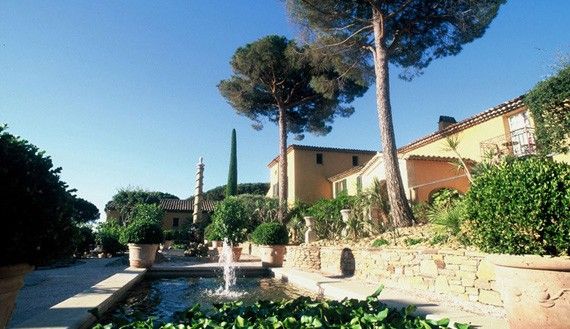 www.villamarie.fr
Franceis known for its natural beauty that attracts millions of visitors from all over the world each year. The southern region of France is home to a host of fabulous accommodation. Service, comfort and style are blended perfectly in the hotels in this part of the world, ensuring that you have a laid back and relaxed vacation. Following are a few of the best hotels in the region.
Jardin Secrets in Nimes
This accommodation looks more like a Tuscan villa than a luxury hotel. Olive trees are laid out in rows to welcome you and the decorations and furnishings of the interiors, with traditional baths, antiques and ornate beds will make you feel a sense of eighteenth century France. Although the accommodation is in such a peaceful location, it is only about ten minutes away from the centre of the town. A holiday at Jardin Secrets is sure to captivate you in its scenic beauty. 
Domain des Grages du Bosquet in  Provence
Situated in the tranquil surroundings of a deserted lane, this hamlet is built beautifully with stone and functions as a guesthouse. The accommodation comprises of numerous independent buildings that mainly feature 3-bedroom accommodations. Acacias, pines, lavender and olive trees surround the accommodation, and if you're looking for warm sunshine to relax by the clean pool, the Provence flora will add to your blissful experience.
Villa Marie in Saint Tropez
Villa Marie is a private villa situated in Saint Tropez and is something truly extraordinary. Situated in the Ramatuelle village by the hillside, the accommodation offers great views of the picturesque Pampelonne Bay and is very close to the Saint Tropez village that boasts of bars, markets and shops. The charm of Saint Tropez can be experience in full from Villa Marie.
Hotel Le Mas de Peint in Le Sambuc Camargue
This hotel is located in the heart of Camargue and makes for an ideal destination for those who are interested in exploring the beautiful, unique and calm surroundings of the region. The hotel is surrounded by vineyards and bountiful olive groves, and you can choose to explore them on horses, bicycles or foot. The cosy hotel is known to have very friendly staff that makes you feel very much at home.    
The natural beauty of the country can be experienced from these accommodations and all of them are luxurious and comfortable, ensuring that you and your family have an amazing holiday experience. Other than the ones mentioned above, luxury villas in Cannes (see http://www.burger-davis.fr/ are also popular among vacationers.