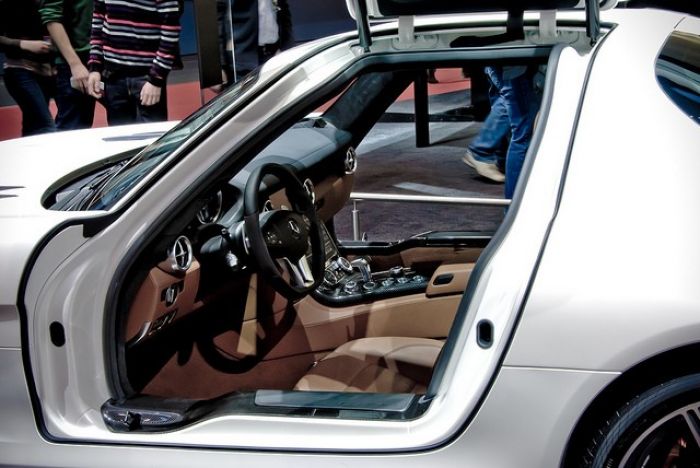 Cedric_Ramirez on Flickr.com
The use of luxury cars has increased in the last few years. Besides guaranteeing comfort, luxury cars also promise premium features that are not available in traditional cars. With premium content moving across the market at a faster rate, car makers are incorporating unique features in a bid to stay ahead in the competition. But what are some of the top luxury features in cars in the year 2012?
Full leather trim
The use of leather in cars in not only limited to seats and door handles. Luxury cars offer something totally different. In sharp contrast to normal cars, luxury cars have leather dashboards, center consoles, ceilings and instrument panel domes among others.
Refrigerators
Though unbelievable, luxury cars nowadays have refrigeration features. Sandwiched between the rear seats, refrigerators ensure that you not only enjoy your drinks chilled, but keeps them fresh as well. This feature comes in handy for backseat passengers.
Automatic sun shades
Even though power-sliding window shades are nothing new, the modern luxury cars come with an addition. Modern luxury cars have rear sunshades that automatically deploys when the car is parked and then retracts when it is in gear. Alongside that are side convex mirrors that tilt downward as well as back-up cameras.
Safety and security features
Luxury cars are constructed to provide the most sophisticated security and safety features than contemporary cars. They come with arguably the best safety features technology can offer. Besides having high quality airbag and traction systems, luxury cars are also known to have anti lock braking system that enhances safety in case of an accident. While some features are remote controlled, others are manually operated by simply punching the right button.
Seat-heat distribution
There are a number of luxury cars that allow its occupants to independently heat one or two sections of the front seat. It is a good gesture, especially during cold temperatures. On the other hand, some brands take it to a higher level by allowing different degrees of heat distribution inside the car. The driver and passengers can save their preferred settings between the two sections of the seat and watch the graphic on an LCD display.
Pop-up dash cup holders
Long gone are the days when car owners had to stash water bottles between the seat and the door frame. In that respect, the makers of the latest luxury cars have taken this into consideration by designing cars that have cylindrical holes in the center consoles for coffee, bottles and other unhealthy stuff.
Adaptive cruise control
This is one of the best features that modern luxury cars have and comes in handy when driving on busy highways. This feature uses laser and radar to determine the distance between the car and the vehicle in front of it to avoid hitting them. It adjusts speed and apply light braking accordingly. Most importantly, it alerts the driver if the vehicle in front decelerates abruptly.
Heated steering wheels
Electrically-heated steering wheels heat faster than those that are climate-controlled. This ensures that the driver's hands are warmed faster to ensure effective driving. Though some operate at the push of a button, others operate automatically.