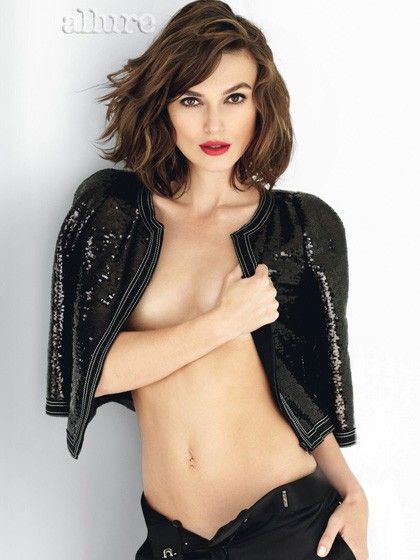 Allure
Looking amazing as always, Keira Knightly is going to be on the cover of Allure issue sans bra and shirt (but still covered with a jacket, sorry fellas). The Pirates of the Caribbean actress' topless shoot will grace the December issue of the magazine.
Keira Knightley is the Allure cover girl for its December issue, out Nov. 20, and she's talking boobs.
Wearing a Chanel jacket and nothing under it for the cover, and pieces of a Tom Ford tuxedo, Knightley, who stars in Anna Karenina, says, "I like a masculine look; I feel comfortable in it."
Of her chest, she says, "They always pencil in my boobs." (But doesn't it look like they penciled one out here?)
She continues: "I was only angry when they were really droopy. For (2004 film) King Arthur, for a poster, they gave me these really strange droopy (ones) ... I thought, well if you're going to make me fantasy breasts, at least make perky breasts." Read More