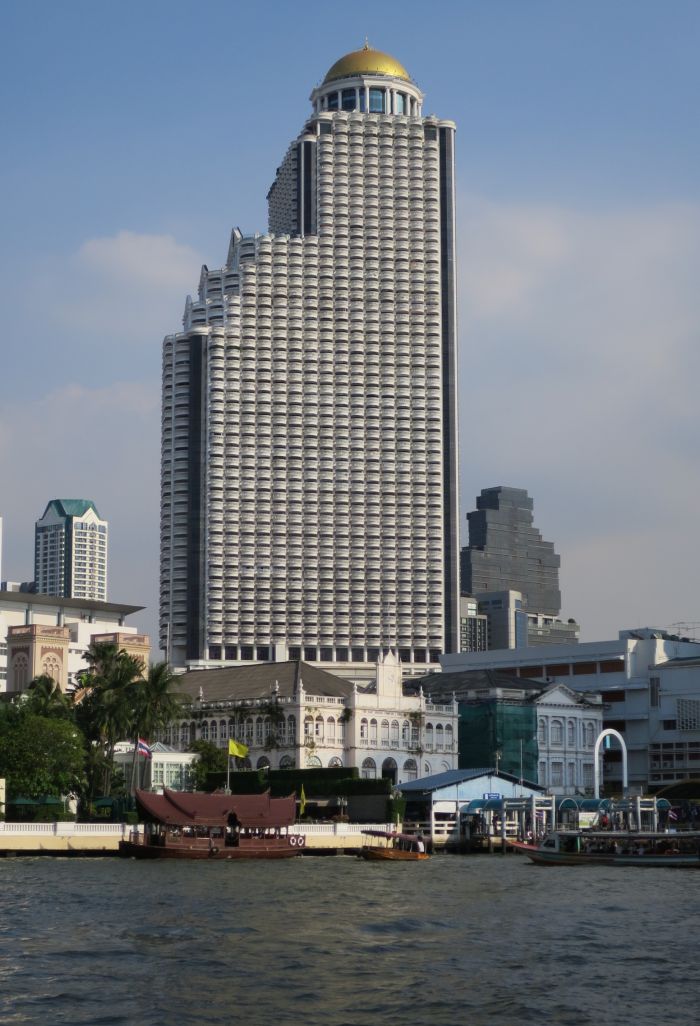 Photo by Michael Reiss
One of the most desirable locations in Bangkok is riverside with proximity to the venerable Chao Praya. One of the best choices for high end living in this area is the Tower Club Suites. Occupying the top residential floors of the State Tower high rise at "lebua," these suites are part of one of the most hip, exciting dining and entertainment complexes in Bangkok, called The Dome. This structure is recognizable day or night by its golden dome flanked by immense architectural pillars.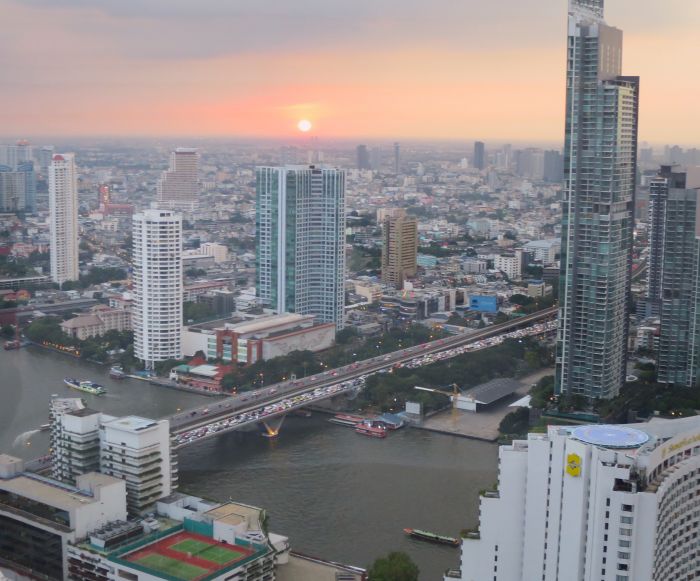 Photo by Michael Reiss
From the lobby, high-speed elevators whisk you to your suite with a separate living room, kitchenette and bedroom that opens onto an immense curved patio looking out on unparalleled views of the skyline and river below. Besides all the standard amenities that you would expect from a luxury property, these suites include a Nespresso coffee machine, and Handy Phone, which is useful as a digital sightseeing guide and to make complimentary phone calls.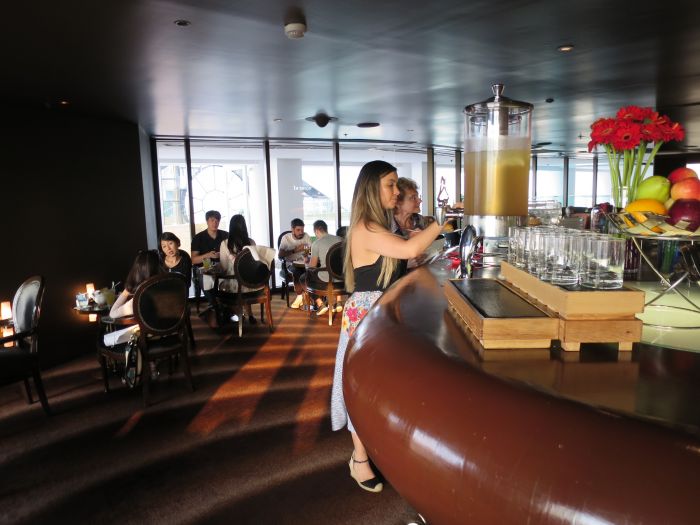 Photo by Michael Reiss
Tower suite guests have exclusive access to the Tower Club Lounge. This sophisticated venue with a nightclub ambience offers continental breakfast, light lunch, afternoon tea, sunset drinks and canapes to an international roster of guests.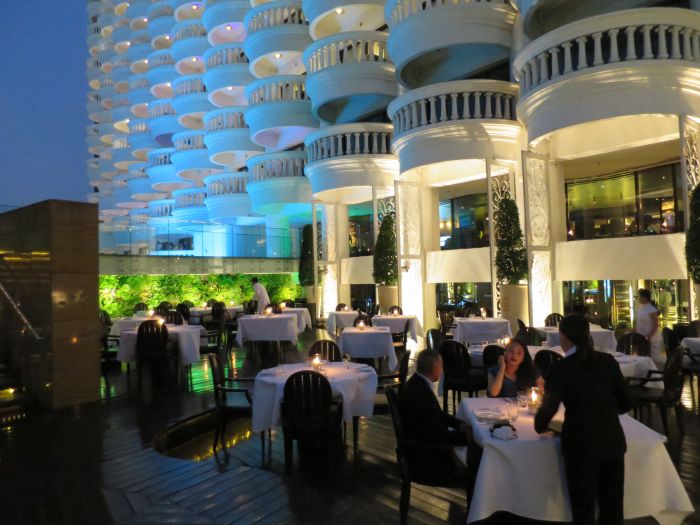 Photo by Michael Reiss
One of the main benefits of staying at the Tower Club Suites is its proximity to the Dome at "lebua." Just a few floors up but a world apart is the stunning array of restaurants and bars that has garnered international attention and awards for breathtaking views, world-class cuisine and bar options.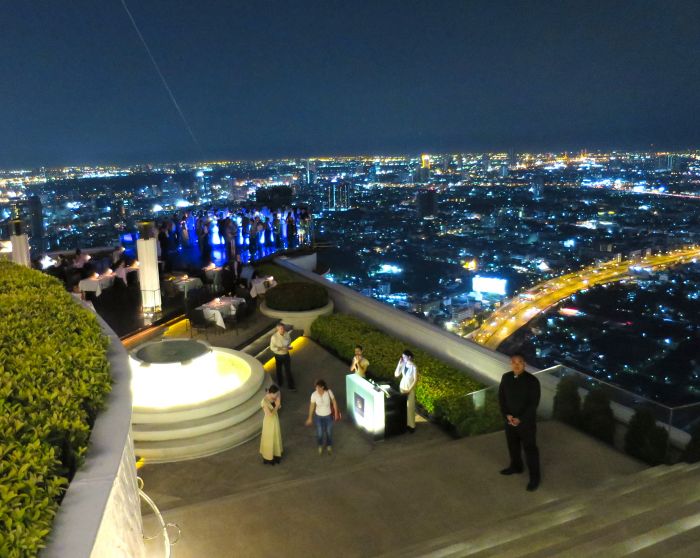 Photo by Michael Reiss
Among the venues is the Distil, for cocktail and fine spirits aficionados, Flute, a sophisticated, champagne, caviar and oyster bar with nightly live jazz, Sky Bar, the world's highest open-air bar, and Alfresco 64, a Chivas Bar with its own exclusive "lebua-blend."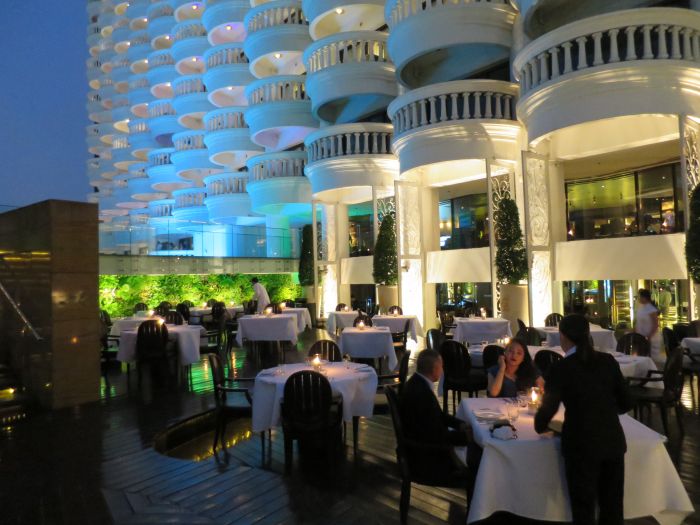 Photo by Michael Reiss
Restaurants include Sirocco, the world's highest alfresco Mediterranean eaterie, Breeze for Pan Asian cuisine and Café Mozu offering international dishes from Italy, India, Asia and Morocco.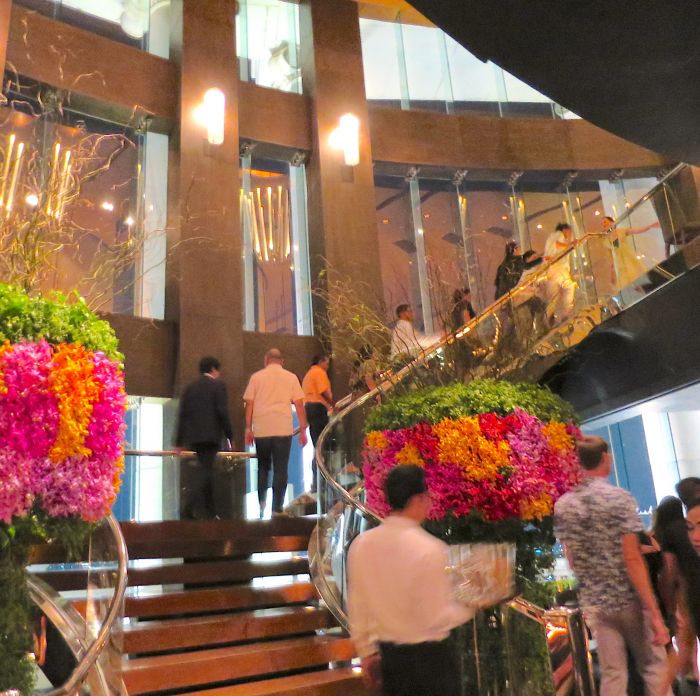 Photo by Michael Reiss
The crowning glory of The Dome's constellation of dining venues is Mezzaluna, a Michelin Two-Star stunner, where incomparable river and city views match the culinary mastery of Chef Ryuki Kawasaki.
As you climb the impressive staircase to the 65thfloor, a live string quartet entices you into a half moon shaped dining space with a quietly intent kitchen staff preparing every morsel you are about to experience. You sense you are in for the meal of your life.
Photo by Michael Reiss
Tables are thoughtfully placed far enough apart to enable intimate conversation and allow for maximum panoramic viewing of the skyline, river and open kitchen. The staff is professional, discreet and at the ready to make this a memorable evening.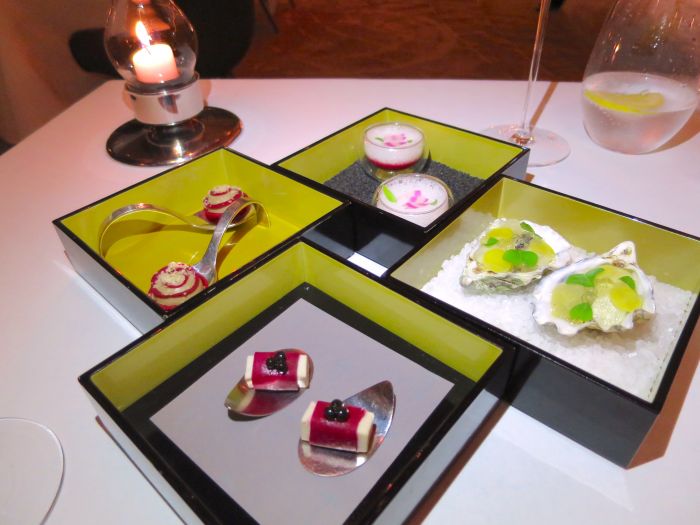 Photo by Michael Reiss
Your dining experience begins with a bento box of amuse bouche meant to tease the appetite and offer a taste of things to come. This quartet of small, gem like bites met the challenge. Particularly memorable were the oyster and smoked eel preparations, nothing short of ethereal in concept and presentation. What follows is a seasonally changing tasting menu accompanied by thoughtfully paired wines that enhance the chef's creations. Chef Kawasaki deftly combines his Japanese heritage and French training to present a uniquely personal flavor profile that reflects his respect for both traditions.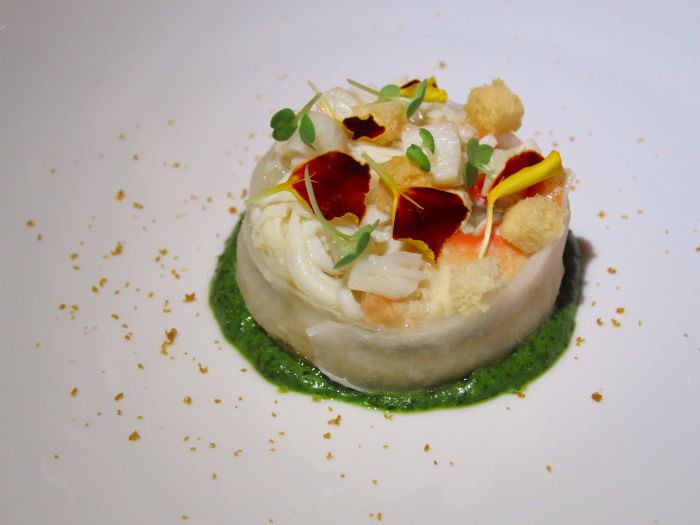 Photo by Michael Reiss
Among our favorite courses were the sake-kasu marinated, seared Foie Gras, the miso grilled lobster, the Barbarie duck breast and leg samosa, the wagyu beef A5, grilled over bincho charcoal, the spice roasted baby lamb and the dark chocolate mousse.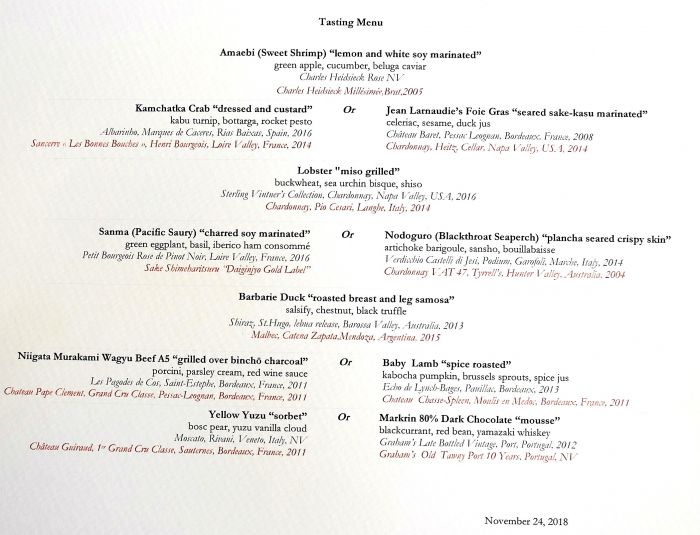 Photo by Michael Reiss
Equally impressive were the suggested wine pairings for each dish. Two separate categories of wines were listed offering the true connoisseur the opportunity to match world class cuisine with premium wine pairings. The stemware and proper cellar temperature of each selection made the experience particularly pleasurable.
Each dish was delivered and described by gracious servers and the general manager was discreetly available to ensure that our every request was promptly addressed. No doubt Mezzaluna is on its stellar trajectory to a third Michelin star that will be a first for the dining scene in Bangkok. We look forward to our return to celebrate its continued path to glory.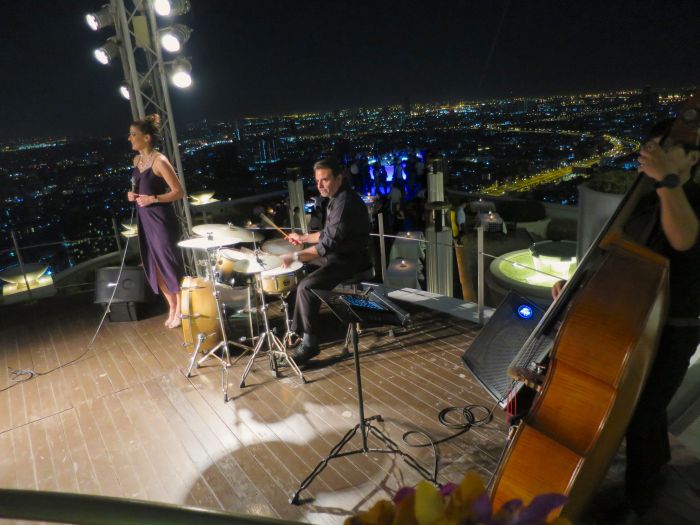 Photo by Michael Reiss
Flute, a sophisticated, champagne, caviar and oyster bar with nightly live jazz at The Dome at lebua Bangkok.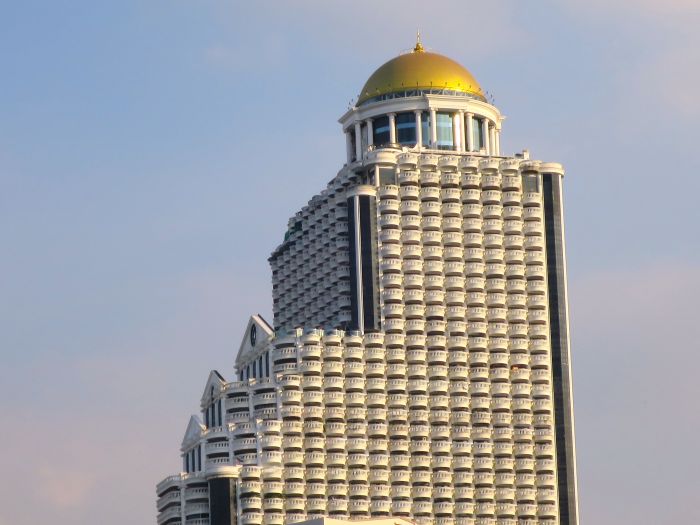 Photo by Michael Reiss
The Dome at lebua Bangkok