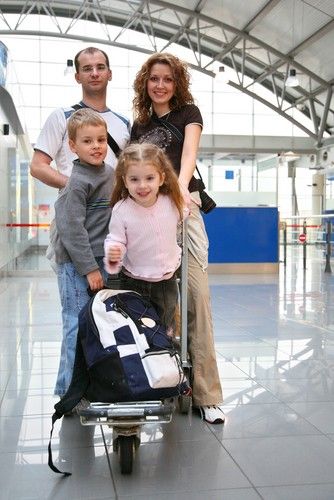 Ah, the holidays. Time of good cheer, good food, and crowds of angry people vying desperately for the attention of overworked airline representatives. Yes, sometimes it seems like there's as much to deride about the holidays as there is to enjoy. But there are a number of things you can do to tip the scales more into the latter category. Here are just a few.

Book strategically
It may be too late to book your flights and hotel rooms early, but you can still make good use of those fare compare calendars on airline booking sites. If you really want to save money, your best bet is to travel on unpopular days, like on the holiday itself, during the "dead week" that follows the holiday rush, or on extremely early flights, which aren't as bad as they sound if you stay in an airport hotel the night before. If money isn't an issue, consider booking direct flights wherever you can, as the airline grid is really pushed to its max during the holidays, with both high volume and poor weather to contend with. The fewer airports you have to pass through, the less likely you'll be to encounter any problems.

Get to the airport early
I know, I know, we've all heard this a million times. And yet, without fail, there's always somebody jostling through the security line begging to be let ahead because they've got a flight to make. This is all the more dangerous during the holiday season, as flights are generally overbooked and the airline won't hesitate to give your seat away. If you travel a lot for business and are used to getting away with arriving 45 minutes before the flight is due to take off, remember that in the holiday season you should leave a buffer of more like 2 to 3 hours early, depending on traffic conditions (which you can look up on Google Maps) and on the recommendations posted on the airport website. Print your boarding pass ahead of time so you can at least skip one long line.

Get that car (and brain) ready to go
If you'll be driving to your destination, make sure the car is gassed up and in working order so you won't have any delays or headaches when you head out. As with flights, consider leaving at unpopular times, even if it means taking half a day off of work. Have entertainment at the ready, whether that means movies on tablets for the kids, a great playlist, or books on tape and podcasts. Use a tool like GasBuddy to find the cheapest gas while you're on the road, and try your best to keep that road rage in check.

Plan for the worst
Look, the reality is, you just might get stuck somewhere unpleasant en route to your destination, whether that means you'll be waiting out a snowstorm in a roadside motel or turning that airport lounge into a jacket-lined bed. Most airports have a surprising amount of amenities on offer, from hotel rooms to workout areas, so you'll benefit from doing a little research ahead of time. You may also want to research cool tourist sites you can turn into a side visit as well. And of course, it's really best to buy trip insurance up front so your baggage, hotel rooms, and emergency health costs will covered if there are surprises. Check out a travel alerts map to check for any last minute warnings too.
Hit the ground running when you land
For the most part, we tend to do a lot of thinking about how to get to the airport, and not a lot of thinking about how to get from the airport to the hotel. Though you probably have internet access on your smartphone, it's easier to have all of the numbers you may need written out ahead of time, whether that's a taxi service or that hotline to your hotel's concierge in the event you get lost in the neighborhood. If public transit is more your style, print out subway maps and bus schedules and slip them into your carry-on.
Pack strategically
Before you even leave, make sure you're packing all the right items, and not more than you need. There's nothing worse than lugging around five outfits you're never going to wear. Look up your destination's predicted weather online and pack accordingly, though make sure to include a few surprise weather items, like a thin rain slicker or a warmer sweatshirt. To speed your way through airport security lines, pack with TSA regulations in mind, ditching those sharp items and packing your toiletries in clear plastic bags that can be easily removed and put on a security belt. You also may be better served by shipping any gifts to your destination ahead of time or planning to wrap them when you arrive, as the TSA very well may make you undo all of your hard work.

Be sure to keep any entertaining and expensive items in your carry-on, whether that's a laptop or jewelry, as well as must-have items in the event of delays or strandings. These may include medicines, small neck pillows, warm clothes, chargers or just a good 3-fluid ounces of face wash.
Stay Calm
Look, we all know there's much about holiday travel to dislike. But road rage isn't going to help anyone, and airline employees aren't miracle workers. Unless you really see your passenger's rights being violated, try your best to adopt a zen-like attitude. If you're flying, you are, as the comedian Louis C.K. put it,sitting in a chair in the sky. A 40-minute delay on the runway is peanuts compared to the miracle of flight.

So, to really make the most of your holiday travel, do a lot of pre-planning, and be ready to open that beach read and embrace a "whatever happens, happens" attitude. After all, with these tips, you'll get there eventually!