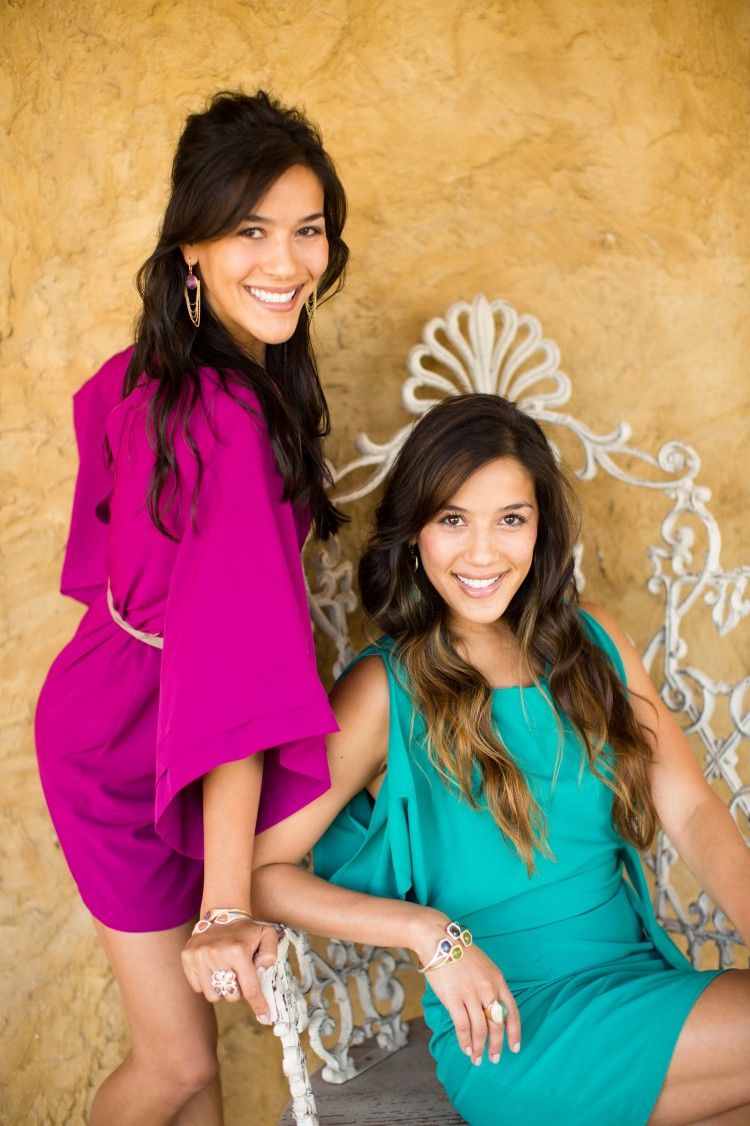 Sarah DeShaw
I had the opportunity to catch up with twin jewelry designers, Lucy Price and Kimberly Gibson of the brand Dao Fournier. I asked them about where they find their inspiration for developing unique pieces as well as where they get their effortless and edgy style.
1). Tell us about the Dao Fournier brand. What inspired you and Kimberly to create the line?
Dao Fournier was launched in the spring of 2012. Considered by us both to be a labor of love, there is nothing else we would rather be doing than living out our dreams. One could say designing comes very naturally to us both; we design what we love and what we can see ourselves wearing. We are so passionate about our collection that if we don't love it, we won't even put it out. We are involved with every process of the manufacturing stage, even making yearly trips to Thailand to handpick our stones and work directly with our artisans. We take our jobs very seriously and only want to put out the very best reflection of ourselves that we can.
Our experience and knowledge from growing up in the business gave us the platform to finally launch Dao Fournier last year. We spent many summers working in our parent's retail jewelry store where we learned the ins and outs of operating a small business. After college, we went on to study gemology at the Gemological Institute of America. We chose to study in Bangkok, Thailand to reconnect with our roots, but more importantly for the reason that Bangkok is considered "the Gem capital of the world".
2). How does the Dao Fournier differ from the other jewelry lines available?
We've taken a fresh approach to earrings and have created interchangeable bases that can be worn alone or behind their earrings to provide a variety of looks and options. In addition, we have incorporated our story, sense of sisterhood, and being twins into our collection. Every piece features our signature two small diamonds. Our second collection, due out at the end of July, keeps the two-diamond theme going throughout the collection. You will have to wait and see, but we are so excited! This new collection is more of your everyday jewelry like stacking bangles and hoop earrings, but we've added a very special Dao Fournier touch to it!
In addition to the design element of our pieces, we work with the finest craftsmen and artisans in the world. The hand finishes are all done by hand and are so breathtakingly gorgeous that we find ourselves just staring at our pieces! It's amazing how an earring transforms into this warm and glowing piece once the radiating satin finish is applied. What makes it so special is that there are no two pieces alike because everything is hand fabricated so there will always be a little variation, which makes our pieces unique.
3). As twin designers, what are your days like?
There is nothing more rewarding than working with your best friend.
What makes it so easy, yet so hard at times is the level of expectation that we have for each other. It's as though we know what we can each bring to the table so there is no falling short of duties and responsibilities.
So you ask what our typical day is like? Well, it usually begins with a nice, strong, rich cup of cappuccino! We love to meet at Lucy's place, as she has gotten very domestic since getting married, so she always has yummy homemade granola or banana bread around. For the most part our day is quite simple. We usually split up duties, both working what we have in front of us, but at the end, we collaborate and review together. Nothing is done, completed, or submitted without both sets of eyes reviewing and tweaking it. We both have strengths in certain areas, so we use that to our advantage and it makes it much easier to accomplish what needs to be done. At the end of the day, it's a sigh of relief that as twins we've made it another day without killing each other!
4). What are this fall/winter's top jewelry tips?
Without sounding cliché, the most important fashion tip is to wear confidence. We don't really succumb to trends - we wear what fits us well and we like to play up our best features. If a woman loves it, wears it with confidence, she can truly rock any look. With that said, this fall we've seen metallic and bold colors on the runway, so we have really paid close attention to detail with the finishes and little details of our collection. Many of our pieces have that beautiful satin finish and are all hand fabricated. We have paired the unexpected black rhodium against champagne diamonds to bring out the rich golden hues synonymous with fall. We love mixing metals.
Don't be afraid to wear your beautiful silver with warm gold. It's a fun way to make an outfit more edgy and the contrast certainly makes it more interesting
5. How can today's modern woman transition from day to night?
In today's busy world, a woman needs to be able to leave her office after a hectic day, walk right out and move on to a more relaxed look, whether it be for a special date or a fun evening out with her girlfriends. The change from day to evening is as simple as adding glamorous drop earrings, which are something flirty with movement, stack bangles, or a layer of necklaces!
We both live by one simple rule - where most women pick out an outfit, then accessorize, we begin first by picking out the jewelry and completing the outfit around it. We've always done this; the accessory is what personalizes your look. There is something special about jewelry; it's the sentimental aspect of it, how it can be passed down generation-to-generation and appreciated for decades to come. Nothing goes out of style, everything is brought back at some time and there is nothing more special than taking an ordinary outfit and making it your own.
Eliot VanOtteren
Eliot VanOtteren
Eliot VanOtteren
Eliot VanOtteren