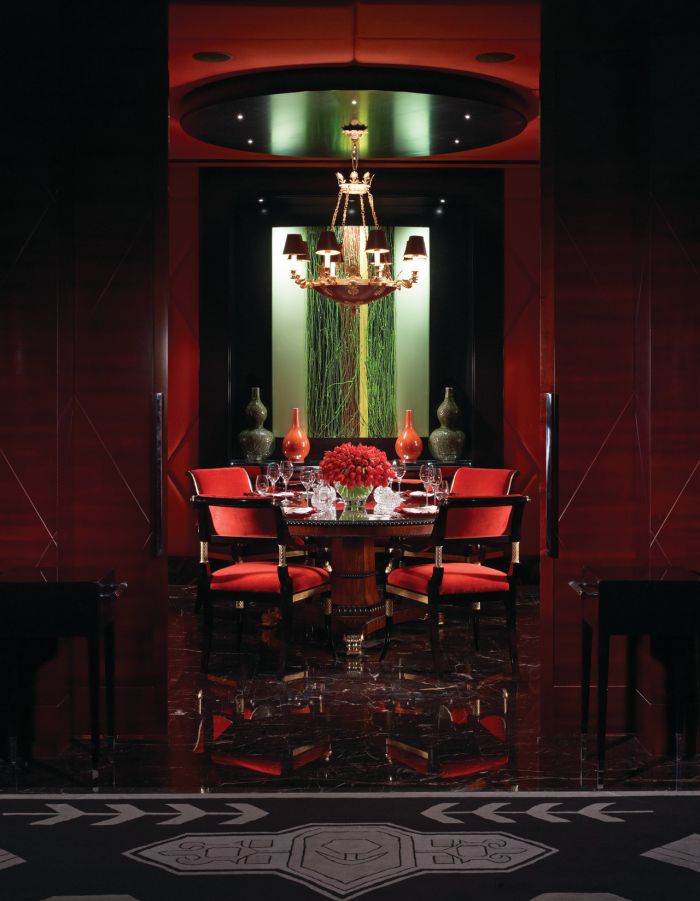 Courtesy of Four Seasons
Melissa de Carteret discovers La Dolce Vita in the heart of London, at Amaranto, Four Seasons London at Park Lane
Amaranto, the fine-dining restaurant at the newly refurbished Four Seasons London at Park Lane, trips off the tongue like an Italian liqueur, but is in fact the Italian name for the red-hued Amaranth flower. Overseen by Chef Davide Degiovanni (ex Michelin-starred Ristorante Semplice and Locanda Locatelli), the restaurant is comprised of a series of stunning interconnecting rooms, each with a subtly different feel. There are three lounge areas, a main dining room with adjacent conservatory, and a bar and 20-seat private dining room. Unusually for central London, the conservatory with floor-to-ceiling windows opens onto a private garden terrace, which comes into its own in summer.
Fittingly, the bold décor by reinventor of The Savoy Pierre-Yves Rochon reflects the Amaranth's hues, from warm magenta to deep, lipstick red, interspersed with black textured furnishings and chinoiserie, banquettes and zebra print chairs. Gleaming French black marble is complemented by onyx table-tops, and Eastern touches mingle with the contemporary and the eclectic. The effect is chic, striking and seriously opulent, if not perhaps for shrinking violets.
In keeping with Four Seasons founder Isadore Sharpe's vision of an unstuffy 'personal, down-to-earth hotel', Amaranto introduces a new concept of guests being able to order any type of food at any time, according to occasion and mood. So if you would like breakfast in one of the more formal areas, or à la carte in front of the fire, or even in the spa café, you can have it – a radical departure for a London five-star hotel.
La Dolce Vita
The food is inspired by Italian flavours and British style, with ideas and ingredients imaginatively mixed and matched from different regions. Afternoon tea is fluent in two languages: traditional English, complete with warm fig scones served with the thickest clotted cream, home-made raspberry jam and lemon curd; and the lighter Italian-inspired 'La Dolce Vita'. Both are the labour of love of pastry chef Santiago Marafuschi, previously at the Four Seasons Buenos Aires (who as I write has been succeeded by Nicolas Durousseau). It's impossible to choose between them, and luckily I don't have to. Robert has joined me for an afternoon and evening of après-spa indulgence, and judging from the decadent displays on neighbouring tables that's just as well, or there's a very real possibility I won't be making it out of my chair.
The English afternoon tea includes a good selection of sandwiches – preserved tomato, Red Leicester and piccalilli, smoked salmon and cucumber, egg mayonnaise and spinach roulade – and a particularly delicious lobster and lettuce (requested in place of open roast beef and horseradish), of which I could have demolished a plateful. Cake-wise, there's an individual portion lemon meringue pie, a divinely rich sacher torte, chocolate mousse with passion fruit, a fabulous coffee, cream and dulce de leche éclair, and as a gesture to our five-a-day, a colourful seasonal fruit tartlet as well as mixed berries and cream.
Its Italian counterpart reads like a regional gastronomic tour of Italy. There's a baby raisin and candied fruit panettone, cannolo Siciliano, torta caprese, cannoncio cream and pistachios, a particularly delicious Bigne San Giuseppe with candied cherries, and soft torrone finished off with strawberries and balsamic with mascarpone cheese. Dainty savouries include tomato, mozzarella and basil bruschetta, focaccia al parmaggio, bocconcini with Parma ham and robiola and vegetarian fritto misto. It's an unusual and delightful take on the afternoon tea ritual.
To accompany a feast in such sumptuous surroundings, only a decadent tea will do, and what could be more decadent than 22ct Gold Tchaba rose, a light and fragrant white tea infused with gold leaves and rose petals. Our waiter delivers a timer to ensure it's brewed to perfection, and as it's poured into my delicate Narumi china cup, the perfume resembles an old-fashioned rose garden in high summer. And of course, afternoon tea would not be afternoon tea without champagne.
A La Carte
At dinner, the menu is à la carte only (a reduced price menu is available for parties of 6 or more), while lunch includes a very reasonably priced set menu. High-quality ingredients are imported from Italy wherever possible, and in general the style is light and the execution precise, with a good range of pasta, meat and fish dishes. The wine list is sumptuous and unashamedly Italian, with the occasional French, Spanish and New World accents. Another first for London, every wine on the list is available by the glass (provided two glasses are ordered) – a great way to broaden your repertoire and try out different vintages, with unpretentious sommeliers onhand to give advice. If, like me, you're easily carried away, it's wise to set a budget beforehand to save sobering up over the bill. Prices range from £8 per glass for a humble Pinot Grigio, to a heady £157.50 for a 2002 Amarone Classico.
An Aperol aperitif gets things off to a good start. Similar to Campari, it's a refreshing, neon orange coloured drink made with spices and bitter and sweet orange, which our bartender sweetens with prosecco. Perfect for a summer's day, it goes down well with the delicate tuna amuse-bouche, which arrives stylishly presented on a leaf-shaped plate, and accompanied by grissini and hearty portions of superb home-made breads, including fine-textured and flavoursome focaccia and stromboli. As if by magic, our table for two is suddenly transformed into a table for three, to my delight our waiter producing a small foldable stool to save my Birkin the indignity of cold marble. Such a simple thing, one wonders why more hotels don't think of it.
For starters, Robert opts for a comforting Tuscan dish of feather-light gnocchi filled with a gentle basil pesto and ricotta, pan-fried Scottish langoustine and a wild mushroom broth. Two mouthfuls in wishes he'd opted for the larger portion, declaring he could eat it all night, while I go for fresh Cornish crab tagliolini, with braised artichokes and grated fresh lemon zest. For mains there's grilled sea bass, firm and transculent in a light, colourful broth with fresh broad beans, chilli, pan-fried scallops and fresh tarragon, which goes down well with our roast potatoes, rocket, balsamic and parmesan shavings and sautéed mixed vegetables. For dessert, I'm torn between the intriguingly named Dolce Esperienza, subtitled 'A Sweet Tasting Experience' (a little of every dessert on the menu), and 'Six Little Sins', a suitably iniquitous confection that includes chocolate fondant, cocoa crumble, chocolate ice-cream, butter cocoa cream, dark organic bitter chocolate and Gianduia chocolate sauce. Fear of wanting wins out at the last minute and I opt for Esperienza. The combination works well – there's a small, fabulously rich tiramisu, a selection of macaroons, warm coconut cake, Amalfi citrus tart, and apple and mascarpone cream mille foglie, and the pièce de résistance – a faultless chocolate fondant with a sprinkling of crowd-pleasing fizzy popping chocolate candy. But I regret my decision to share. Somehow afternoon tea seems a long time ago, and after a light main course I could have done the whole thing justice myself.
Like the restaurant, Amaranto's intimate bar has a retro, clubby, slightly kitsch feel – in a good way, and unsurprisingly is already a London hotspot. Sultry and seductive, with more than a soupcon of decadence, it's the perfect place for leather-loving lounge lizards to soak up some serious cocktails (from a list of over 70, including delightful seasonal creations – try the raspberry and thyme bellini, or lychee and rose petal affair). Oenophiles will fall in love with the tantalising floor-to-ceiling wine walls, holding some 750 bottles and many stellar vintages in chrome and plate glass along both sides of the bar. One word of caution: resist the urge to stroke the Cristal and Krug through the glass. It really isn't cool.
Afternoon Tea (per person): £32 (exc. champagne)
Dinner (average per person): à la carte £40 for 2 courses, £55 for 3 courses
Lunch (per person): set menu £19.50 for 2 courses, £26 for 3 courses
Address: Amaranto, Four Seasons London at Park Lane, Hamilton Place, London W1J 7DR
Web: http://www.fourseasons.com/london/dining/amaranto_restaurant/
Tel: +44 (0) 20 7319 5206
Follow LuxeGuru on Twitter: @LuxeGuru
Image by author
Amaranto, wall by Michele Létang
Courtesy of Four Seasons
Amaranto bar