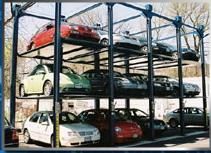 A vehicle storage lift is an investment that gives high returns on installation. Common sights at commercial parking spaces and car workshops, these storage lifts have extended their arena to enter the garages of ordinary homeowners for the benefits they offer. Vehicle storage lifts automatically park and retrieve cars by using a system of pallets and lifts. Their main aim is compact utilization of garage space. These vehicle storage lifts can be situated both above and below the ground, or maybe a combination of both.
Here are some of the salient features of a vehicle storage lift:
Ø It helps you to save garage space by accommodating maximum cars in minimum space.
Ø It offers customized parking solutions.
Ø It is cost effective as it is designed and manufactured in India.
Ø It requires a low maintenance cost.
Ø It is safe for both the car and the driver.
Ø It will save you trouble and pain while working on the car because you can use the vehicle lift to raise the car to the required height and access the parts that need repair.
Ø It helps in faster car parking and retrieval.
Ø It is eco-friendly.
Ø You can choose from a range of attractive modular designs.
Ø They are available in varied strengths, weighing from 6000 lbs to 18000 lbs.
You can choose between mid-rise lifts, 2-post lifts and 4-post lifts. Each of them is designed to suit your particular need. Let us take a look at what mid-rise lifts, two post lifts and four post lifts actually are-
A mid-rise or scissor lift is a small and portable unit that can be used to lift the car. It takes up space directly under the car and is positions between the two doors. It therefore has limited usefulness when it comes to working on the underside of the car. This type of lift is best suited for mobile mechanics who offer their services at the required address.
The two-post lift, on the other hand, is best used for vehicle maintenance activities. It can be used to lift the vehicle to the optimum height to provide comfortable working space. It is made of two concrete columns that are placed on the sides of the car that bolts to the floor. Each column has two arms that come out and move backward and forward so that they get up to the lifting points of the car. This lift allows you to have maximum access to all parts of the car, excepting perhaps the door when you are doing repair work.
The four post lifts comes with many advantages:
a) They are best used for storage as you can park the second car under the lifted car.
b) This type of lift need not be bolted to the ground. They have caster sets which allow you to role the lift around the garage.
c) It is also smaller and more compact than the two-post lift.
It is best to choose the car lift based on your requirements. If you tend to do a lot of repair work, then a two-post lift is your best option, but if you want to optimize the storage space, then a four-post lift will suffice.
Mike Hanks is the Operations Manager in one of the leading automotive servicing garage in Anaheim, California. In this article, he provides useful information about utilizing garage space by using the Vehicle storage lift