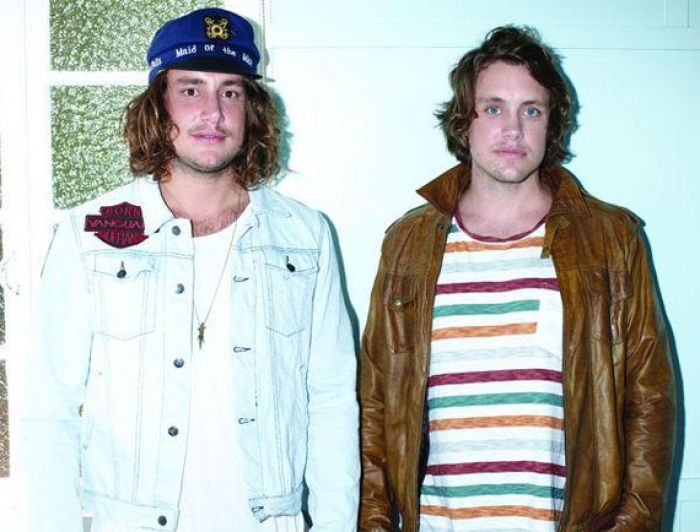 Benn Wood
Breaking out of the burgeoning fashion scene in Queensland, Australia takes a heap of skill. The brothers behind Vanguard, Sam and Jono Cottee, have the chops. Their newest line is heading stateside to Bloomingdale's this month, bringing their latest blend of ethereal graphics and traditional striped wear that's perfect for those sunny days when all you want to do is chuck a sickie and hit the beach.

Eric Meyers: Describe the look of Vanguard.
JONO COTTEE: The overall look of Vanguard is relaxed, laid-back, comfortable, well-worn but well-fitted premium street wear that takes you straight from a party at the beach to rooftop opening that night. Whether you are at a garage gig, a rooftop party looking over the city, wandering down on the streets themselves or heading out for an afternoon surf. Vanguard's pieces are perfect for mixing and layering to reflect your mood — and the mood of a generation that today's invincible and adventurous youth can identify with.

EM: Tell us about the names you give the collections, like "Good Morning Rucksack Wanderers."
JC: We try and come up with a collection name that sets the mood and gives a bit of background to the influences and themes of the collections. For the Good Morning Rucksack Wanderers collection, the title came partly from a quote by Hugh Romney when he got on stage at Woodstock and said to a packed crowd "Good morning, what we have in mind here is breakfast in bed for 400,000." The second part came from the central character that the collection was inspired by … the rucksack wanderer. Combining these two gives a catchy little phrase of welcoming a group of likeminded people and reminds us of all the good parts of the [season].

EM: You added a surfer to the team down there. Any plans to hook up some American shredders once the line debuts?
JC: Yeah, we have a couple of surfers that are a part of our team now: Noah Lane from the Gold Coast and Dallas Peterson from the South Coast of NSW. We would love to hook up some American shredders for sure. Always on the lookout for people who represent what Vanguard is all about — freedom, youth, carefree and adventurous. Surfers, skaters, artists and musicians are the type of people who fit well with that.

EM: How do you feel about your upcoming venture into the American market?
JC: We are really, really excited about it. It is obviously such a huge and influential market, but we really think we can make our mark on it by producing quality clothing for the guys in the States that relate to or are inspired by our way of life and don't want to look and/or live like everyone else.
You can check out the full line of looks at the Vanguard website as they prepare their fall release!