Photos Credit: Shutterstock
The Emperor Cruises fleet is designed to be a sanctuary that ensures every moment aboard is special. And their latest debut, the ultra-luxe cruising experience in Bai Tu Long Bay, will be no exception. The overnight, artful cruises accommodate 16-24 people in eight, en-suite cabins for one or two-night cruises and private charters options. All eight cabins are equipped with private balconies, panoramic ocean views and a full butler service. On the upper deck, the King and Queen Suites cover 757 square feet and are among Emperor Cruises Halong's largest rooms. The room is ideal for travelers seeking to enjoy charming accommodation, beautiful sightseeing, and majestic sunsets and sunrises. For guests staying in the King and Queen Suites, it's all inclusive and all luxury.
Expect exclusive royal butler service from beginning to the end. Upon arrival to the Emperor Cruises harbor, go straight from the limo to the King or Queen Suites via an exclusive tender shuttle for private check-in in the magnificent suite. Guests cruise artfully on a completely bespoke journey accompanied by their butler.
Once in your room, take in the royal fragrance of agarwood and a bottle of chilled champagne as you are welcomed into the largest and sexiest suites in Bai Tu Long Bay, Vietnam. For those looking for something more relaxing, enjoy an exclusive four-hand Royal massage for one hour in the Heritage Spa or a foot massage in-suite. This service can be requested at any time, around the clock. Enjoy music at your leisure with an exclusive, old-fashioned gramophone recorder or iPod music player provided in-suite.
A private cocktail demonstration by Martini the King of cocktails, Emperor Cruises's talented bartender, is demonstrated at the private bar. In the suite, guests will receive the recipe of this signature cocktail. Another exclusive part of the royal glamor experience is to enjoy scented lotus tea in the morning or a relaxing afternoon tea ceremony, and cakes delivered to your suite. Sip some after-dinner drinks on Hoang Sa Paracel Island in the evening, explore the island or partake in some squid fishing. This small and comfortable tender boat at Paracel Island is both state-of-the-art and unique in Bai Tu Long Bay.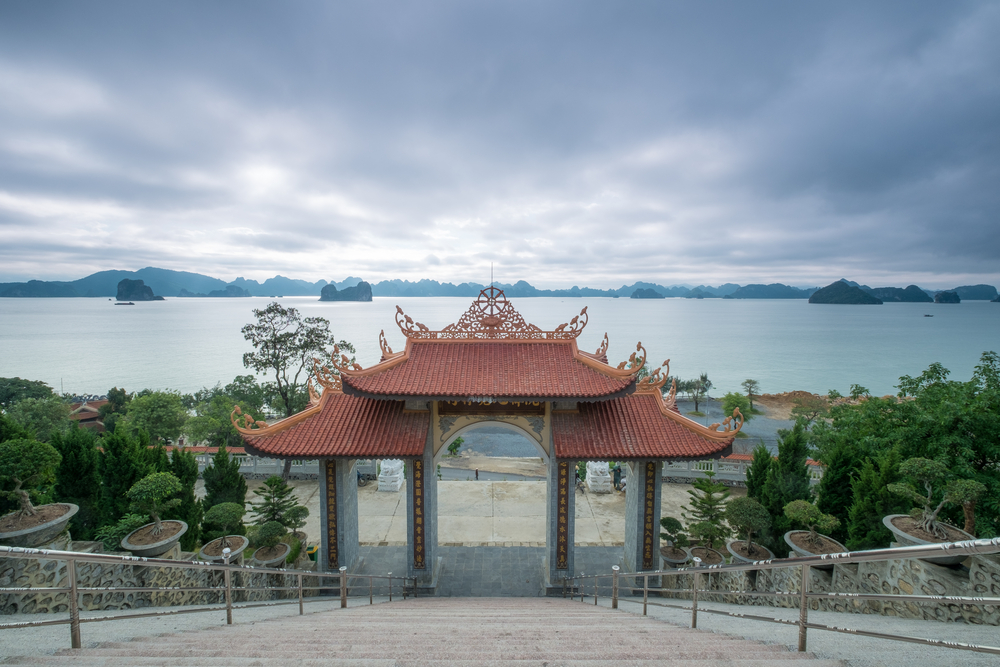 An exclusive reservation at the best tables with uninterrupted ocean views at Can Chanh and/or Panorama with their names on the table comes standard for the King and Queen Suites. Emperor Cruises' cruising concept means passengers can also opt for a once-in-a-lifetime dining experience in your suite. Exclusive food and drink menus are specially designed for you, as well as a visit to the cruise ship's wine cellar to choose a preferred wine for dinner with Emperor Crusies' appointed sommelier. Besides the à la carte menu for dinner, guests can choose a special fine dining menu by the bay which has been designed exclusively by the internationally renowned Iron Chef, David Thai. This dinner is, of course, available for King and Queen Suite guests only.
A late check out up to 11 a.m. means that travelers can stay in their suite until disembarkation, and their butler will care for everything. If they wish, they will receive a cruising certificate to mark their experience aboard the "best of the best" in the largest and most charming suite on the most luxurious cruise in Halong Bay, Vietnam.
Cruise on a smaller boat with traditional sails, ultra-personalized service and outstanding facilities on an all-inclusive basis; there are no additional charges at the end of the cruise. Halong Bay is one of the New Wonders of the World and tourists flock to sail its karst-dotted waters. The boats are available for FITs, GITS, and charters. This authentic experience is ideal for new or repeat travelers to Bai Tu Long Bay and Ha Long Bay, who seek something different, unique, exotic and out of the ordinary. Inspired by the lavish lifestyle of Emperor Bao Dai, the last Emperor of Vietnam, this masterpiece is designed to reflect the style of the 1930s. It is a place for the most sophisticated travelers to enjoy Vietnamese culture, history and gourmet cuisine. Each guest is treated to an emperor's experience in idyllic privacy, with every detail attended to. All suites are named after the most beautiful villas and palaces of the late Emperor Bao Dai.