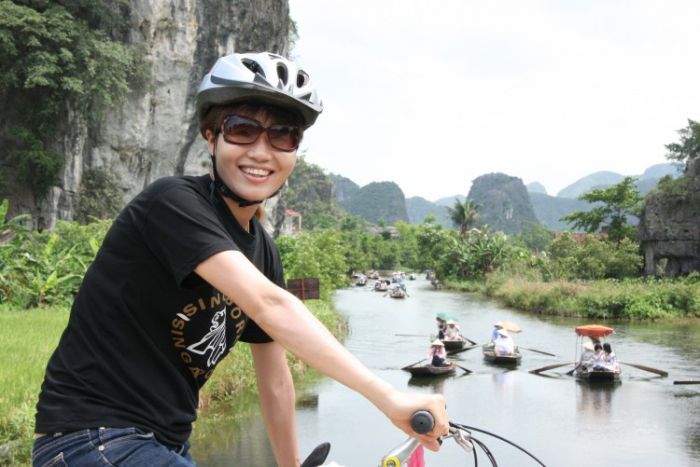 Arrivals
Speaking at the opening ceremony of the Festival Hue in April 2012 in Hue City, Prime Minister Nguyen Tan Dung said that the tourism sector should welcome more than 10 million international travelers, service 48 million domestic tourists, create three million jobs and contribute 7% of the country's gross domestic product by 2020.
Vietnam's tourism development strategy for the next decade is to enhance the professionalism, quality and efficiency of the Vietnamese travel industry. The target projections in the national tourism strategy are seen as obtainable given what the industry achieved in 2011.
Last year, the industry serviced more than six million international visitors and 30 million local tourists, and registered earnings of VND130 trillion (some US$6.25 billion), and the number of tourists' increases on average 20% year after year.
The tourism industry is looking to 6.5 million international arrivals, 32 million domestic travelers and revenue of VND150 trillion in 2012. The already approved tourism development strategy envisages the number of international arrivals will be 7-7.5 million, domestic travelers 36-37 million, revenue of US$10-11 billion by 2015, and the tourism sector will contribute 5.5-6% of the country's GDP by that year.
Hotels
The number of hotel rooms is expected to reach 390,000 with 30-35% being three to five-star rooms by 2015, and 580,000 rooms with 35-40% rated as three to five-star rooms by 2020.
Once perceived as a budget to mid-range destination, Vietnam has become more uscale in recent years. A development reflected in the growing number of luxury hotels and resorts across the country.
M Gallery Hotel de l'Opera has opended its door in Hanoi. Rex and Grand hotels have been upgraded to five star hotels, Nikko Hotel Saigon, Novotel Saigon Centre opened and Vietnam-based Ekipurean has also unveiled luxe boutique An Lam Ninh Van Bay Villas near Nha Trang and An Lam Saigon River in Ho Chi Minh City.
We are seeing interest in the An Lam Saigon River, the An Lam Ninh Van Bay villas near Nha Trang. Hyatt Regency Danang, Intercontinental Danang Resort, Fusion Maia Resort Hoian, Ana Mandara Hue. The next upcoming destination in Vietnam is the archipelago of Con Dao where Six Senses has developed a resort. It is 45 minute flight from HCM city and offers the most beautiful islands and settings in Vietnam.
Access
Da Nang has a growing range of tourist facilities, including leading golf courses and hotels from international designers and operators, and a new airport terminal is another piece of the puzzle which is contributing to the growth of Da Nang as a tourism hub in the region.
The Civil Aviation Authority of Vietnam said more foreign airlines are going to expand their service in Vietnam, with Silk Air of Singapore eyeing a route to Hanoi in addition to its current service to Da Nang in central Vietnam. While Laos Airlines makes connections from Pakse to Danang three times per week at the new international Danang airport.
In late March 2012, United Airlines and Japan's All Nippon Airways announced their agreement to cooperate in an effort to open the Vietnam-US route as of April 1, with flights transiting in Hong Kong, Japan or both.
On March 23, 2012 the Filipino airline Cebu Pacific opened two weekly flights between Manila and Hanoi. The first ever direct flights from Hanoi and HCM City to London three times per week will bring UK travelers to the region, increasing arrivals by 30%.
Air Astana, Kazakhstan's national airline, has signed a lucrative commercial tie-up with Vietnam to open direct flights to Ho Chi Minh City by December 2012. Emirates of the UAE plans to launch a Dubai to Ho Chi Minh City route in June, while Jeju Air of South Korea will offer daily flights from Seoul to HCMC.
Vietnam has made plans to develop its infrastructure at a commensurate rate with the expected growth, including plans for an airport in Dong Nai Province in southern Vietnam, and upgrades to Noi Bai International Airport, as well as Cam Ranh and Nha Trang airports.
Vietnam's newest budget airlines, Vietjet Air has commenced operations on domestic routes. The airline has lofty plans to become Vietnam's first private airline to operate both domestic and international flights by 2015.
Products and Trends
Vietnam now has world class hotels and resorts, beaches and cuisine, in addition to its natural beauty, rich history and traditional culture.
The country also boasts many attractions, including beautiful resorts, spas, majestic scenery, a rich traditional culture, easy going and welcoming locals and an improving tourist infrastructure. This makes Vietnam a more attractive destination for travelers seeking authenticity coupled with luxury and the best value for their money.
With new luxury hotels and world class golf courses newly opening, luxury trains, exclusive cruises and upscale private tours spanning the length of the country, Vietnam is fast emerging as the world's latest luxury destination.
National Tourism News
"Vietnam – Timeless Charm" and the five petal lotus have been selected as the slogan and symbol of Vietnamese tourism in 2012-2015 term. The new slogan was created with an aim to attract discerning travelers, who wish to experience its defining characteristics: thrills, nature, heritage, festival, pristine, luxury travel, scenery and essence.
Halong Bay is among the new Seven Natural Wonders of the World, a new cave " Paradise Cave" which is the longest cave in the world, has been discovered at the National Heritage Listed Site, Phong Nha Ke Bang
As of June 1, 2012 foreign travelers will receive VAT refunds for the goods they have purchased in Vietnam when leaving the country via Hanoi's Noi Bai or Ho Chi Minh City's Tan Son Nhat airports.
Vietnam, Laos, Cambodia and Myanmar join efforts to promote "Four Countries-One Destination" and speed up one single visa, however a single visa for travel between Cambodia, Laos, Myanmar and Vietnam will not be introduced until governments see how a smaller version between Thailand and Cambodia performs.
Vietnam-based Luxury Travel Ltd (www.luxurytravelvietnam.com)is a long established Asian specialist in the art of travel and serves today's most sophisticated travelers with luxury privately guided and fully bespoke holidays in Vietnam, Laos, Cambodia, Myanmar and Thailand. Luxury Travel excelsin designing tailor-made tours and providing unique travel experiences to fulfill the most sophisticated traveler's expectations. Luxury Travel Ltd. haswon numerous travel awards for excellent performance,including the most recent award: Best Luxury Tour Operator.www.facebook.com/luxurytravelcompany