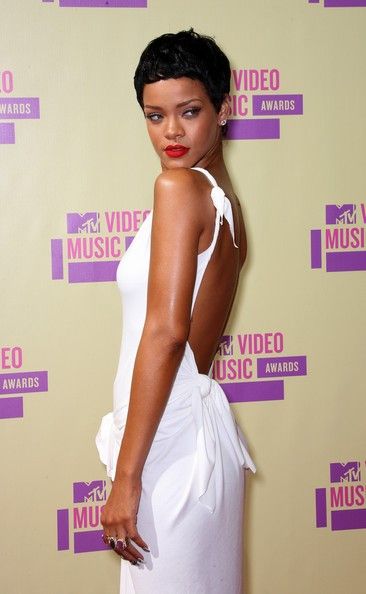 Congratulations on an amazing and superb performance by the latest Queen of pop herself, Rihanna. She came, tumbling into the 2012 MTV Video Music Awards in Staples Center Los Angeles, California, in a most glamorous and memorable moment. Rihanna displayed what the audience considered a red hot appearance which was deliciously addictive, compelling and eye-popping, Rihanna shines at the top of her game. l would say, the performance is highly entertaining, fascinating and tantalizing. The pop singer kept up a standard of excellence and hit her stride in a more intense, spectacular and vivid way.

Rihanna's red carpet picture debuting her new hairstyle!



Consider it better than ever, Rihanna's "We found Love" remains the best show during the MTV Video Music Awards . It is surprisingly dramatic but remarkably good. It was said, "an outstanding performance in any show business is when you can't take your eyes off," and unlike anything ever seen before, it is fantastically riveting. A great performance and one of the most emotionally naunced. Rihanna's show was full of great moves, usually the pass would have sounded like it is amazing, but the depth was gruesomely overwhelming. It's not just the moves but indeed the miracle of captivating her audience.

In the picture below Singer Rihanna performs onstage during the 2012 MTV Video Music Awards at Staples Center on September 6, 2012 in Los Angeles, California!



There had been years of uncertainty in her career, but she did not only kick off the 2012 MTV Video Music Awards, but she also won the best video of the year for her sexy hit "We found Love."
The hook was the 22 year old pop singer debuted a dramatic new, super short hairdo. Rihanna as you know has worn her hair in a variety of styles and colors in the past but the new hairstyle was such a simple but compelling hairdo.



Rihanna opened the Award ceremony in a sparkly red hot out fit and was nominated for five awards. In some ways the most rewarding thing at the end of the evening is her red hot performance! Summarisingly, we shouldn't underestimate this year's 5 times nominee in the MTV Video Music Awards.


Rihanna's Cobra Throne!!

Rihanna's Cobra Throne opened the MTV VMAs with a big crazy performance of "We Found Love" that involved lasers, dancers, and a gigantic cobra throne!

Rihanna in a white tank dress
debuted a super-short pixie cut on the red carpet at the 2012 MTV VMAs—super cute! The singer wore stunning, floor-length white tank dress. Gorgeous and grown-up.