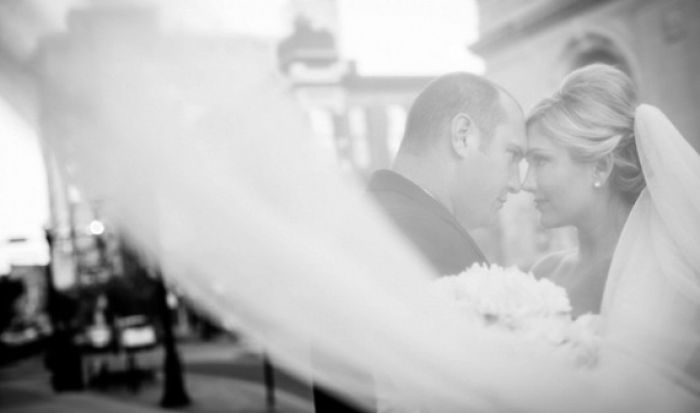 http://www.angelcanaryblog.com
Every bride takes the time to find the perfect wedding dress. However, once you've decided on the dress of your dreams, there is more to think about. What will you do to accessorize? Different styles of wedding dresses call for different types of jewelry. There are many different things you can do to make sure your wedding day jewelry is appropriate in style and quantity.
The most important consideration in finding the perfect wedding day jewelry is taking your dress into consideration. One important consideration is the color. If you have chosen a bright white gown, your best choice will be silver or white cold jewelry. Platinum will be even brighter to match the color of your dress, though it may be cost prohibitive to some. For the colored gown or one that is slightly off-white, you have the most flexibility. Gold, white gold, rose gold, silver, pearls, or gemstones will all look flattering and complimentary. When your wedding gown is a shade of ivory, gold jewelry matches the warm tint best. Silver or white gold jewelry can even make the dress look dirty or dingy sometimes, so be very careful.
Next, you need to think about the style of your dress; although there are a lot of options available in the market, some people might find them a bit expensive this is especially true of the neckline. If you have a strapless dress, you can go with a shorter necklace. Some brides even choose to forego the necklace and focus on more elaborate earrings. Most halter styles are difficult to wear with a necklace. If you don't want to forget about the necklace altogether, try a longer chain in a simple design with a single pendant as a focal point. The v-neck or plunging neckline needs some sort of necklace for an accessory. An elaborate short chain or choker is a great choice. Many brides prefer a longer chain with an elegant pendant. 
No matter what style your dress is, you will want to make sure your jewelry is comfortable for you. If large earrings aren't something you typically wear, your wedding day might not be a good choice for that change. If you're not used to wearing jewelry at all, you might want to go for a rhinestone encrusted headband or hairclips. This still give you some sparkle without the bother of wearing jewelry. 
The last real consideration is where to get your jewelry. Some families have a tradition of passing on heirloom jewelry on a daughter's wedding day. To some women, their wedding day jewelry is a little reminder that they can wear on special occasions to remember their wedding day. For others, it is just a one-time accessory for their special day. If you buy your own jewelry, make sure you set a budget and stick to it. It is simple to get overwhelmed and spend much more than you realized. Another option is to jewelry rental, similar to when you rent a dress. This can allow you to have a much more elaborate accessory than you would normally purchase without breaking the bank. Don't forget to return them after the wedding day, though!
Several choices are open to you for wedding day accessories. The biggest thing to remember is not to overwhelm yourself with jewelry. On your wedding day, you are the star, and your jewelry should never outshine you.