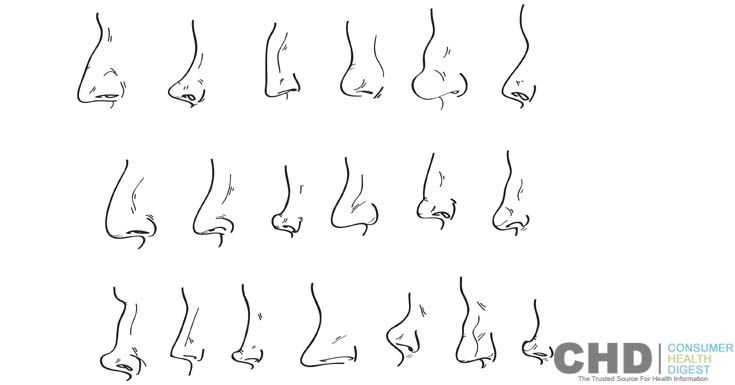 image taken by shutterstock
Nasolabial folds and smile lines are caused by both aging and genetics. Certain individuals are more prone to developing nasolabial folds than others due to genetic factors, and in these cases, the folds are slightly more pronounced and can develop as early as twenty five years of age. Smile lines are caused by a loss of elasticity in the skin, and they create what is referred to as a "marionette" look, in which the skin around the mouth is sagging and deeply pronounced. While these signs of aging are completely natural, many individuals are uncomfortable with their appearance and are looking for natural treatments to fill and tighten the loose folds of skin. Fortunately, there are a variety of options that don't include surgery that work to treat these specific signs of aging.
Hyaluronic Acid
Hyaluronic acid is a substance that is naturally produced by the body that is responsible for keeping the skin supple and plump, as well as keeping the bones, joints and tissues lubricated and fluid. As people age, the body does not produce as much hyaluronic acid as it once did, and this can lead to sagging skin, wrinkles, and nasolabial folds. While many women opt for hyaluronic acid filler injections, there are also all-natural hyaluronic acid creams and serums that work well to replenish the hyaluronic acid in the skin, improve elasticity, and plump sagging skin around the nose and mouth.
Vitamin E
Vitamin E is one of nature's most powerful moisturizers, and when applied topically to the skin, it deeply hydrates as well as encourages collagen production. Increased hydration allows for a plumped up appearance, and when Vitamin E is applied as directed over time, permanent results are possible. Pure Vitamin E oil is the best option when it comes to filling in smile lines and nasolabial folds, as the oil deeply penetrates the skin and encourages healthy skin cell turnover from within. It is always best to apply Vitamin E oil after exfoliating the skin, as the pores are open and this allows for the oil to absorb efficiently.
Facial Exercises
Facial exercises and facial yoga work wonders on the skin, as they help to strengthen the facial muscles, and this in turn helps to tighten up the skin in problem areas. Facial exercises also work well for individuals with sagging skin in the neck area, often referred to as "turkey neck". In addition to exercises, there are also a variety of safe and affordable facial exercise machines on the market that use tension coils to tighten the neck and facial muscles.
In Conclusion
Nasolabial folds and lines around smile lines are completely natural for many individuals who are going through the aging process due to the fact that they are caused by a lack of elasticity in the skin. If you are looking for natural ways to minimize the appearance of your nasolabial folds or smile lines, there is definitely hope. Start with daily facial exercises and facial yoga, as this will help to tighten the skin and increase circulation in the face. Choose an all-natural wrinkle cream or serum that contains hyaluronic acid, and apply it liberally, day and night to the affected areas. The hyaluronic acid will work in conjunction with your skin's natural hyaluronic acid, plumping up the trouble spots and creating a beautiful, full and supple appearance. Exfoliate once a week and apply Vitamin E oil directly to the skin for deep hydration and skin cell renewal. All of these steps will help to slow down the formation of nasolabial folds and smile lines, and the natural ingredients in the treatments will also help to rejuvenate your skin, creating a beautiful, youthful, appearance.