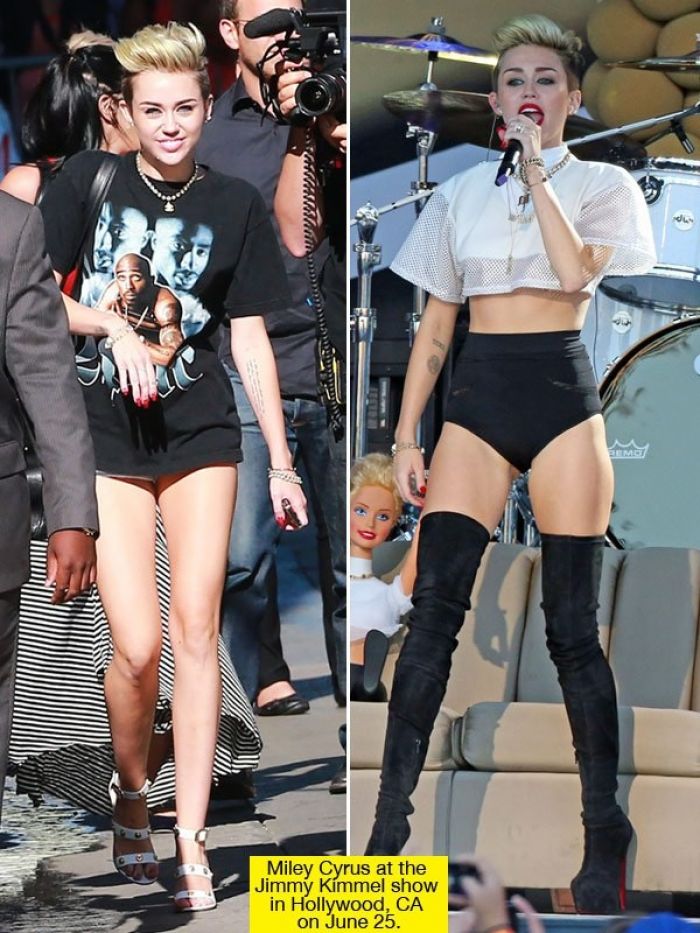 Image courtesy of FameFlyNet
Now, I've heard of shorts that ride up in the backside, but I've never seen a whole wardrobe pull a back-door disappearing act like Miley Cyrus' shorts seem to have managed. I get that she's going for a sexy new image, but are short-shorts really the only fashionable outfit she can put together? Cyrus, sexy is more than showing some skin!
Once again the songstress stepped out looking like she forgot her pants — and her performance outfit was even racier! Which look did you like on Miley? VOTE.
Miley Cyrus has been wearing nothing but crop tops and booty shorts recently, and her visit to Jimmy Kimmel Live in Hollywood on June 25 was no exception. The 20-year-old "We Can't Stop" singer looked like she stepped out sans pants in a Tupac tee and white sandals before slipping into an even sexier, (and leggier!), get-up.
Miley Cyrus' 'Jimmy Kimmel Live' Outfit:
The star showed up to her appearance in an oversized Tupac Shakur baggy tee and short shorts that were hardly visible underneath her shirt. (Read More)