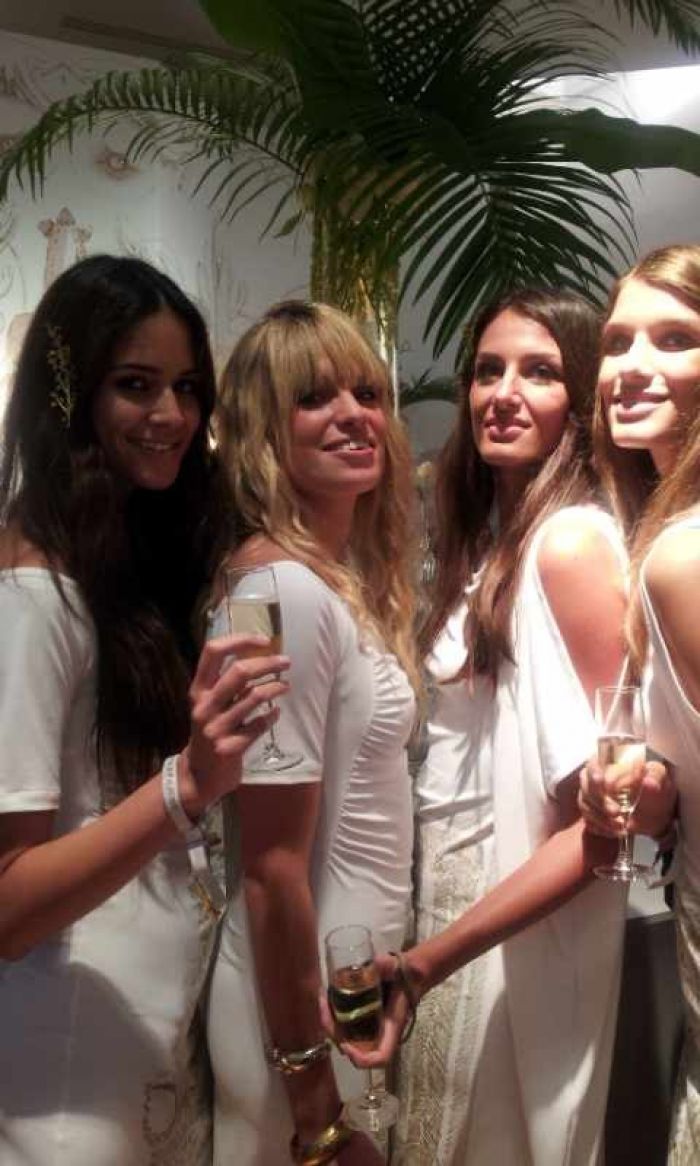 ARTIFICE ATELIER
The property in the 8th district of Paris, the HOTEL SALOMON DE ROTHSCHILD was an elegant location for this formal garden party. Extensive gardens stretching around the rear of the estate and the historic proportions of the building and interiors made the kick-off celebration for the MODE CITY and INTERFILIERE PARIS show, a great success. Each room inside the historic estate was a grand backdrop for the elegant theme. The rooms were decorated with plenty of entertaining details like gold and white flower arrangements, floating water bars, on-site chefs preparing cocktail "petite Trucs" for munching. In the garden, vegetable flavored ices were being served from a charming ice cream cart nearby the white tents set up to protect the guests from the frequent rain storms that have been part of Paris Fashion week. When the drops started falling, the guests simply picked up their champagne and macaroons and moved under the tents without missing a beat. Everyone was dressed in their white and gold finery complete with accessories, hats, scarves or golden jewels reflecting the festive theme. Since every guest was connected to the swim and lingerie world, there was plenty of sexy shape wear on all the women. The men kept up the pace with their gold hats and scarves trimming their summer resort wear.
The endless rooms were furnished with groupings of chic modern furnishings in gold and white for the guests to sit and munch or just have light conversation. Waiters who were dressed in white and gold entered the rooms with a sense of ceremony serving delicious foods like risotto, cured meats, salads, golden macaroons and marshmallow sweets until all hours of the night. The glittering French Crystal Candelabra were lit with candles that dripped all over the luxurious (and historic) wooden floors of the estate but no matter, the well rehearsed and seamless staff took care of it, quickly and quietly during the affair with a high level of service for the guests. This was just the beginning of this wonderful party that stretched from one elegant 19th century room to another. It truly set the theme for fashion week show that brings the world of swim and luxury lingerie to Paris each year. The guests at this elegant event were textile designers, lingerie designers, swim specialists, technicians and distributors. Many CEOS and heads of companies were also present, in what could be said to be one of France and Italy's largest industries. With champagne flowing, delicious delicacies and music in each room the mood was one of great energy and excitement.
Everyone there was optimistic that this season and next will be a fantastic year for lingerie and swimwear. Trends, technologies and trade are all part of this years show. But, with the addition of the "Gold and White Garden Party", a sense of the luxurious, and elegant aspects of this industry was kicked off, in great French style at one of the cities most elegant estates, in the 8th district.
For more infomation on the estate and its gardens:
http://www.hotelsalomonderothschild.com/
ARTIFICE ATELIER
White and Gold Decor
ARTIFICE ATELIER
Interior Decoration/Bar
ARTIFICE ATELIER
Historic Chandelier and Ceiling of the Rothchild Estate