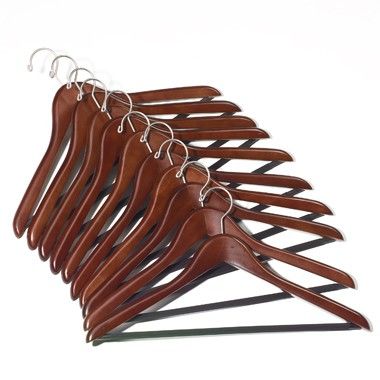 70%
Open any random wardrobe and you are likely to find loads of clothes hanging off wooden hangers. Apparently, they are a perennial favorite for a wide variety of reasons.

Wood boasts of exuberance, practical designs, ease of use, durability, rich designs (and more possibilities), availability of styles, choice of finish, and unbeatable looks – all the while weighing less but staying strong. As such, just so you know, here are some popular reasons why wooden hangers are favorites:

Wood is environment friendly

The global push to go environment friendly is forever gaining strength. Apart from regulations, rules, and federal initiatives in some countries, people are getting an almost guttural level of responsibility to use products that are eco-friendly. Wood – especially bamboo, for instance – is one of the most environment friendly materials available. While we are there, please do realize that bamboo isn't even wood technically; it's a type of grass that grows to be big and strong.

Bamboo hangers, for instance, keep termites away. They are strong, flexible, and they naturally keep pets away. Further, bamboo hangers are cured with heat so they stay strong and durable for – let's just say – forever.

While we make our Bamboo hangers, we are glad that we dump 35% of oxygen back into the atmosphere. Please do read Jo Granville's post on why bamboo Hangers are so appealing.

Sexy curves make wood standout

Wood is amenable and can be crafted to precision. There's a reason why wood still remains as a favorite material for building, modification or beautification, and for furniture. Wooden hangers lend and colors (mostly woody, though) that can be bewildering. The bewildering part aside, they are certainly a favorite pick among our customers. If looks and functionality is your kind of thing, wood should almost always be the first pick for your household items (hangers included).

Wood is practical 

If you were looking to add some hangers to closets in hotel rooms, for instance, you'd ideally look for great-looking but simple hangers. You'd also not want to lose them or let guests take them away while leaving. So, you'd then want wooden hangers with anti-theft protection clips that prevent taking hangers out of closets. Of course, worry about theft isn't the only concern. You'd need hangers in places that are prone to extensive chemical exposure. You might need luxurious hangers such as Cedar hangers or Black Wood hangers. Perhaps you are just looking for special-use hangers such as pant hangers, suit hangers, or even combination hangers. Wood makes it all happen. Wood is practical. Wood is our first love. 

Set aside the fancy materials in use today, and you'll inevitably come to accept that wood was, is, and will be the original material of choice.