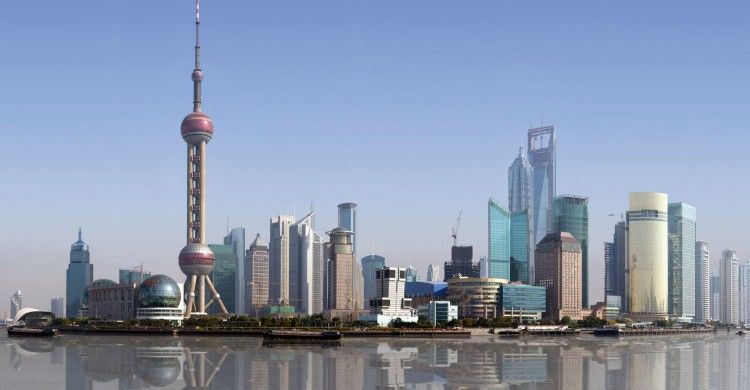 shanghai
Shanghai does not have must see sights like New York or Rome, instead there is this compelling everyday life that unfolds with bewildering variety, that must be witnessed.  Shanghai's pulsating energy is what makes it the greatest city in the world.
Shanghai Maglev Train – A magnetic levitation train from the Pudong International Airport to the city, this is a perfect metaphor for Shanghai.  The train reaches speeds of up to 430km/hr and your journey takes as little as 8 minutes – a trailer of the fast paced city you are about to experience.
Fuxing Park – Take a stroll in this park and experience Chinese society in its casuals…the older generation taking a walk, exercising, singing songs!   


Shanghai Museum – Located on Peoples Square, this is one of the few well-lit museums in China. It chronicles a lot of the country's 5000 years of history. Choose from many sections, ceramics, jades, bronze or calligraphy.


Din Tai Fung – The soup dumpling, known locally as the xiaolong bao, is Shanghai's greatest culinary joy.  A delicate dumpling skin is wrapped around a juicy pork filling, and in luxe versions, its crab, but the winner is the tasty shot of broth that's to be found alongside it.  Go to a Taiwanese restaurant chain called Din Tai Fung for the best in the city.


Di Shui Dong Ribs – Not your regular sweet and sour number, these are meaty and spicy.  Try them once and then again.


Dongtai Road – There are treasures to be found in Dongtai Road's antiques and curio shops.  Amongst all the touristy stuff, there is bound to be something invaluable, and very often, not for sale.


Green Massage – Traditional Chinese acupressure is not your typical Swedish massage or Thai foot rub.  At Green Massage, you go to the place between pleasure and pain, blinking back tears, but glad for the eventual result.  Plus point, the place is clean and antiseptic. 


50 Moganshan Road  or M50 – The hub of the city's art scene, this address houses Shanghai's best contemporary art galleries and community of artists whose studios are open for the publics' viewing


The Bund – to put it officially the Bund is the Shanghai nightlife guide to partying and funtimes! This is the address for the city's most respected businesses, most loved restaurants and most infamous nightclubs.


The Bund Sightseeing Tunnel – A convenient yet expensive and tacky way of crossing the river, the tunnel is a unique experience not to be missed just for the novelty of the experience.


Jishi – Tiny and crowded, the best place to try local eats is Jishi, that is if you manage to get past the incomprehensive English menu!


Vue Bar – Like all great cities, this is where Shanghai's viewpoint is, the 32nd and 33rd floor of Hyatt on the Bund.  Climb on up, and enjoy the view.


Home Delivery – Anything, and I mean it in all seriousness, can appear at your doorstep.  Not just takeaway food, we're talking fresh flowers, airline tickets, groceries.. Anything one can purchase at the market.


Affordable grooming – Walk in to a local salon for a hair wash, massage and hair cut if you please.  So pocket friendly that you'll have to stop yourself from entering one every other day. 


People's Square Marriage market – A dating service except its not online.  Parents get together here every Saturday and exchange details of eligible singles.


South Bund Fabric Market – Been eyeing an unaffordable designer outfit?  Come to the Fabric Market and get a copy for a fraction of the price.


Pearl Tower – An essential part of Shanghai's skyline, the iconic Pearl Tower is now dwarfed and surrounded, but its still the original one.


DVD capital of the world – You get everything, and I mean everything, on that shiny silver disc – just ask.


Giant midnight teddies – For some strange reason, you can buy giant teddy bears off the street, in the middle of the night!  These huge, some are even life sized, teddys are wheeled around the city for sale by vendors, when all of Shanghai is asleep. 


Creative city – Up and coming architects, interior designers and amateur artists are redefining public spaces, transforming the city into a very interesting canvas of sorts.


Specialized markets – There's a market dedicated for everything in Shanghai, from hair dye to retro specs and electronics.


Tai Chi Republic – Walk in any green space or park and you'll come across people making gracious body movements.  Tai Chi rules.


Go Green – Eco conscious designers are coming up with every conceivable organic item from baby clothes to evening gowns.


Shanzai – A market which deals in all products operating and being created with outside government regulation.  Very engaging, a must see!


Dining – Food fads move at incredible speed from one country's cuisine to another's.  Shanghai offers multiple dining options at any given time and never the same one twice.


Taikang Lu – A residential area turned retail district with an array of shops dealing in silver jewelry, tea, clothes, traditional handicrafts, arts and T-shirts with Chinese iconography.  Spend a whole day here.


Health Freaks – There's a gym around every corner.  With bright exercise equipment dotting every park and apartment complex, fitness seems to be on everyone's minds.


Bar 88 – The club of choice in China's second and third tier cities, Bar 88 in Shanghai is full of wild live performances, loud music and dancing girls.  Visit for the choreographed dancing to techno remixes.


Ballroom Dancing without a Room – Every weekend and on some mornings, senior citizens get together a music system and head for the squares and parks - and dance – ballroom style!


Brunch at The Stage – The Westin Hotel hosts a brunch, which is quite sinful to say the least.  The elaborate menu is accompanied by shots of champagne, vodka and a never ending supply of wine.  An iconic Shanghai experience. 


Shopping Malls galore – There are new malls opening every now and then to satiate their ever-increasing consumer frenzy.


Hongqiao International Pearl City – Create your own jewelry here and then haggle for it – a unique experience in every way.


Nihong Kids' Plaza – Shopping for kids? Everything is available in kid size, from umbrellas to adorable raincoats and kid size rain boots.


Shanghai Centre Theatre – Go for the spectacular acrobatic and circus show for truly awe-inspiring feats. 


Si Ji Xuan – Dine at the Four Seasons for traditional Cantonese fare.


Mr & Mrs Bund – Offers modern French cuisine with a twist, designed for sharing.


New Heights – Relax over a few cocktails at this terrace restaurant which offers great views of The Bund and Huangpu River. 


Lost Heaven – Exotically set restaurant that specializes in cuisine from China's Yunnan province. 


Tea Markets – Get a crash course in tea culture by visiting one of Shanghai's numerous tea markets.  Shop owners will invite you to tea tastings and teach you how to drink tea!
Transporation – Very well connected by land, air and sea, Shanghai is easy to reach.  Transportation within the city is equally efficient.


Huangpu River cruise – A traditional tourist program, every evening cruises leave from the Bund and go on upstream. 


Xiangyang Market – The 'fakes' market which deals in everything from Rolex watches to Deisel shoes.


Swimming with Sharks – Not scuba experience but a lot of bravado is required to swim with the 3-meter sharks at Chengfeng park.


Xujiahai Electronic Market – Every conceivable electronic need is catered to at this market, you just have to imagine it.


Urban Planning Museum – Located in the People's Square, this museum is a must see.


Go-Karting – The only place where you're encouraged to get a few drinks, not wear a helmet and drive at break neck speed!


 Brown Sugar – A live music venue complete with good house acts, international guests and a flaming bartender show.


Local Live Music Performers – Amateurs keep sprouting, local musicians are everywhere. A lot of them good enough to be heard.


Chinglish – It's everywhere, and if it's for the tourists' benefit, then I'm lost, but giggling!


City spirit – Because Shanghai is not like anywhere else in the world!  Enough said.