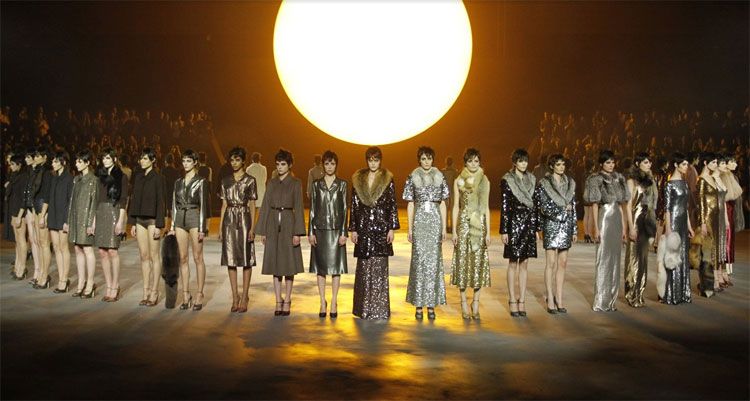 Photo Courtesy of Marc Jacobs
One would think that with its intricate details, flamboyant hues and avant-garde designs, haute couture is pretty hard to upstage. As we've come to learn over the years, this simply isn't the case and
luxury designers
have taken it upon themselves to turn their runway shows into theatrical demonstrations. Once a designer is established enough, anything goes, and season after season they try to outdo eachother in extravagance and shock factor. Here we have compiled a list of five jaw-dropping moments that have hit the catwalk from fashion's most infamous designers.
Designer
Marc Jacobs
certainly isn?t a novice when it comes to surprising the audience at his fashion shows, yet onlookers still couldn?t help but gasp at the topless model he sent down the runway for his fall ready-to-wear collection this year. The 18-year-old model and daughter of nineties cover girl Kristen McMenamy, Lilly McMenamy, pranced down the catwalk wearing nothing but pinstriped hot pants, mesh elbow-length gloves and high heels. Around 1:44 into the show, Lily sneaks by the camera in her first lap under red light, and then she reappears at 7:15 under a more revealing white light. With this show only being Lily?s third ever, it's safe to say that both she and her fishnet elbow-length gloves have been catapulted into fashion stardom.
Video Courtesy of Marc Jacobs
We could name countless runway shows filled with beautiful models donning stunning clothes, but let?s be honest, that would be boring. And luxury designer
Vivienne Westwood
clearly agrees, because for her Spring/Summer 2009 menswear show she cast actual Roman gypsies as her models. With shiny gold teeth and ostentatious medallions draped over their furry chests, this was a far cry from the Ken Doll-esque male models we are used to seeing strut down the catwalk. Seeing something other than the mainstream model on the runway was delightfully shocking.
Video Courtesy of Fashion TV
We can?t talk about outrageous runway moments without mentioning the late
Alexander McQueen
. Notorious for his shows that were much more like theatrical performances, it is difficult to pick one presentation that tops the rest. Each one of his collections had a theme with an outrageous show to match, and one of our personal favorites has to be his Spring 1999 line titled ?Number 13,? which featured an extravagant finale. At 18:10, model Shalom Harlow can be seen standing on a turntable as a massive robotic installation by artist Rebecca Horn shot her (and her gown) with paint. Violent, chaotic and a bit sexual, this moment truly emphasized McQueen?s genius and slightly rebellious nature.
Video Courtesy of Alexander McQueen
Karl Lagerfeld certainly isn?t one for subtlety, and this was ever apparent in his Spring/Summer 2012 ready-to-wear fashion show for
Chanel
. Set in a lavish underwater scene, this grand display had a surprise appearance by none other than Florence and the Machine front woman,
Florence Welch
. When asked about his musical choice, Karl boldly responded with his famous biting attitude, ?There was no second choice? I do not believe in second choices.? This astounding guest appearance coupled with the awe-inspiring runway looks made this a truly magical experience for onlookers, and one of our favorite catwalk surprises to date.
Video Courtesy of Chanel
Photo Courtesy of Jean Paul Gaultier
However, all of these moments pale in comparison to
Madonna
's runway debut in a creation by the talented French designer
Jean Paul Gaultier
. Back in 1992, Madonna was a stunningly voluptuous woman with curves that had men drooling. For the designer's show, he sent Madge down the catwalk wearing a breast-bearing and form-fitting pinstripe dress that finally got men worldwide interested in fashion. Now on display at the Jean Paul Gaultier exhibit in Madrid, you could just imagine what this get-up (second from the right) looked like on a 34-year-old Madonna, who chose to go without the "modest" pasties you see on this mannequin.