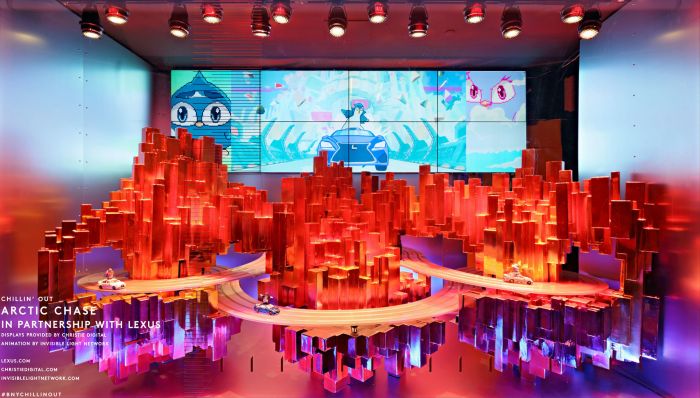 Photos Credit: Barneys New York
It's that time of year—department stores are finally unveiling their Christmas store windows! Barneys New York revealed its new holiday display on Tuesday night, a fun collection of icy sculptures and snowy landscapes entitled Chillin' Out. Done in partnership with Lexus, artist collective Okamoto Studio, and Utah-based sculptors Ice Castles, the four windows capture the beauty of the frosty season with custom-designed creations and one-of-a-kind installations. To maintain a cold enough atmosphere, the department store had to build 35-foot, in-store ice lockers—a holiday first for the company.
"The Chillin' Out window installations have been amongst the most creatively ambitious that our team has designed," said Barneys New York Creative Director Dennis Freedman. "We've challenged ourselves to reach new heights in terms of technical advancements, but ultimately it's the beauty and visual impact that really counts. Continuing with the tradition of integrating a performance element into the windows adds a layer of excitement and spontaneity to the experience for audiences."
The four windows each feature a different theme: Arctic Chase, Winter Brilliance, Ice Castles and the Ice Carvers. The first was done in collaboration with Lexus and features racecar-driving penguins who loop around icy tracks in crystal-covered Lexus IS, GS F, and RC F model cars. The second, designed by Dale Chihuly, represents the frigidness of winter in a crystalline smattering of hand-blown glass icicles. The artists at Ice Castles are known for creating large-scale ice formations, but specifically designed a small piece for the Barneys store window. By using a technique known as "icicle farming" they fuse and sculpt icicles into large castle-like structures. The last window, Ice Carvers, showcases the artists from Okamoto Studio at work, hacking away at giant blocks of ice with chainsaws and icepicks to create holiday-themed sculptures.