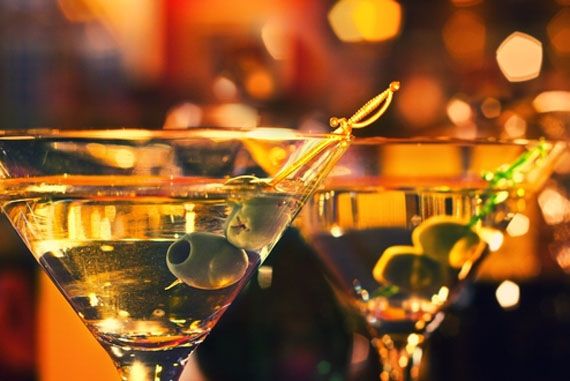 While nothing hits the spot better than a cold brewski on a hot summer's day, nothing says refined refreshment like a cocktail. They don't all come in some froofy glass with a pink hue; plenty of cocktails feature man's favorite liquor, whether its tequila, scotch or gin. These fancy
cocktail recipes
could even start a new Father's Day tradition (or at least help get some warm fuzzy feelings going).
This one is perfect for co-ed gatherings, with enough sweet to satisfy the ladies, but enough gin to satisfy the men.
Bramble
1.5 oz. Martin Miller's Gin

.5 oz. Lemon Juice

.5 oz. Simple Syrup

2 dashes of Creme de Mure

Build ingredients in a rocks glass filled with crushed ice

Garnish with a lemon wedge and single blackberry




Beer and BBQ: What could be more manly?

Backyard Barbecue Michelada

6 oz. Sierra Nevada Pale Ale

1.5 oz. Black Grouse Blended Scotch Whisky

.5 oz. White Grapefruit Juice

.5 oz. Honey Syrup

.25 oz. Claussen Dill Pickle Brine

1/4 Tsp. Gulden's Spicy Brown Mustard

Add everything but the beer to a mixing glass

Fine strain (to remove mustard seeds) into a chilled black pepper rimmed pilsner glass filled with ice

Fill glass with beer

Garnish with a Claussen Dill Pickle Spear

For a unique cocktail that you may not have tasted, try AGWA de Bolivia, the world's first and only coca leaf liqueur - then see which one of your pals is man enough to give it a try.


AGWA Fresca
1.5 oz AGWA de Bolivia Coca Leaf Liquor

12 Spearmint leaves

1/2 lime

7 oz. Club soda

2 Tsp. Sugar

In a large glass, gently crush mint leaves

Squeeze lime juice over crushed leaves and add sugar

Add AGWA and club soda and stir drink well

Garnish with a lime wedge and serve on the rocks.


Want to spice up your next get together? There's no better way than with this haute cocktail.

Hellfire

1 part Sailor Jerry Rum

2 dashes Tabasco sauce

1/4 of a fresh lime

1 part ginger beer

Pilsner beer or favorite lager beer

Squeeze quarter of a lime into beer glass and fill with ice

Add Tabasco, Sailor Jerry and ginger beer