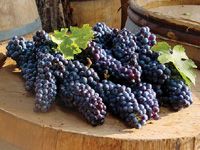 Luxury Wines:
The city of Malibu, known internationally for its surf, sand, sunshine, and homes of film stars, has been keeping a secret tucked atop its caramel-colored hillsides: a winery called Malibu Family Wines. The vines cover 61 acres on Saddlerock Ranch, a 1,000-acre mountainside ranch owned by Ronnie and Lisa Semler, at one of the highest points of Kanan Dume. From here, one can see for miles in all directions. It's a view that has inspired cinematic location scouts, commercial directors, and television screenwriters for years. In fact, over 100 movies, commercials, and TV shows have been shot here. But the real stars on the ranch are the wines.
Poured in a tasting room located just across the road from the Saddlerock Ranch entrance, Malibu Family Wines offers two labels: Saddlerock and Semler. Visitors who are up on the latest accolades ask to taste the 2005 Saddlerock Chardonnay and the 2005 Semler Merlot. Both earned Gold Medals in the recent 2008 San Francisco Chronicle Wine Competition. Owner Ronnie Semler owes the winery's success to the way they integrate new world technology with old world artistry.
"Our vineyards are located in the ideal environment for growing premium wine grapes," Ronnie says. "We're at a high altitude. We're separated from the coastline and the soil here is rocky. Our amazingly hot days cool down tremendously at night."
The uniqueness of the ranch's terroir is significant enough that it recently won recognition as a new American Viticultural Area (AVA), called Saddle Rock-Malibu.
The Semlers run a smooth operation with the help of their entire family, which includes nine children. Ronnie, Lisa, and Tami are the most involved, while the eight other Semlers play integral roles in helping to produce the wine. Their manpower is needed especially during harvest, when all the grapes are hand-picked and sorted on the same day in late September or early October.
The Semlers have owned Saddlerock Ranch for nearly 30 years, but it wasn't until the late 1990s, after a terrible freeze decimated the ranch's avocado trees, that they began planting vines. They started with 14 acres of Cabernet and Merlot. Today, Malibu Family Wines grows eight varieties of fruit: Cabernet Sauvignon, Merlot, Syrah, Sauvignon Blanc, Mourvèdre, Grenache, Viognier, and Malbec. The Semlers' good friends and honorary family members, the John Paul DeJoria family, have become co-owners. John Paul, co-founder of Patron Tequila and Paul Mitchell Salon Haircare, shares Ronnie's vision of expanding the vineyard to 100 acres.
Saddlerock Ranch is singular in beauty. Rolling hills lined with vineyards, acres of manicured lawns, ancient oaks, rose gardens, and ribbons of white fences create the perfect backdrop for any special event. For now it's primarily the Semlers' home, but plans for building a winery on the ranch's own acreage are in the works. Until then, visitors are happy to know that this picturesque spot is located just ten miles from the beach and ten minutes from Highway 101. It's easy to pack a picnic lunch and drive up the winding road to the current tasting facility. There's an acre or so of manicured lawn and stone-topped wooden tables with shade-making umbrellas just begging to be enjoyed while sipping Malibu -- in a bottle of Semler or Saddlerock wine.
WHAT TO BUY
'05 Semler Syrah
Rich, opulent. Fig, dried cherry, smoke, earth $24
'04 Semler Cabernet Sauvignon
Rich with berry. Slight cedar, hints of sage, wild anise $27
'05 Saddlerock Merlot
Sweet berry, fig. Elegant smoky nose with tobacco, cedar, pepper $18
'05 Saddlerock Chardonnay
Fresh, crisp pear, apple. Sweet pineapple, melon $14
GETTING THERE
Take Hwy 101 or PCH to Kanan Road to Mulholland Highway.
Excerpted from
TouringandTasting.com
The tasting room and picnic area are located just minutes from Pacific Coast Highway and Highway 101, making the winery an easy stop for everyone.
The premium grapes grow on the crest of the Santa Monica mountain range.