Carly Zinderman View Profile

Senior Staff Writer | JustLuxe
Bob Bob Ricard: SoHo's Retro English Diner
Jul. 16th, 2009 | Comments 0 | Make a Comment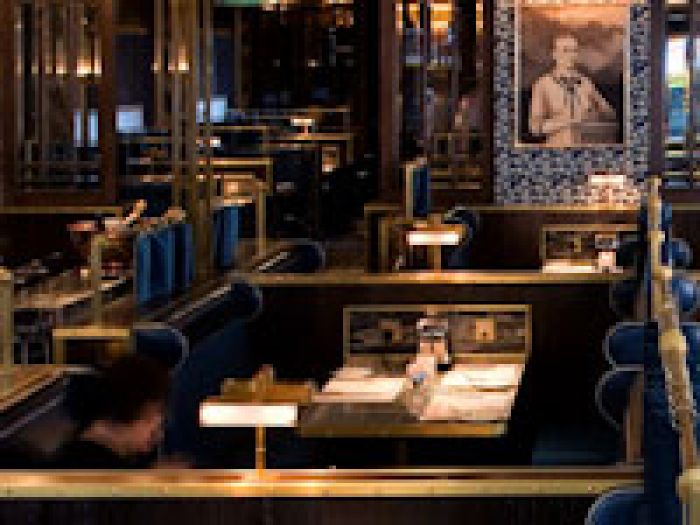 Food & Spirits
The world of food is constantly evolving, changing to fit new tastes and trends. Chefs of all kinds are always on the lookout for something unique and exciting, something that will challenge their perception of taste and texture.
Food lovers get no greater pleasure than when they find that next great flavor. And with so many new and different forms of restaurants popping up all over the place, from luxurious caviar/champagne bars and classical fine-dining, to hip tapas lounges and gourmet comfort foods, foodies everywhere are finding that life has more and more pleasures to offer.
Among the newest ideas in the culinary world is combining the finest epicurean technique with classic dinner flare to create an upscale retro diner. A new leader in this arena is SoHo-based Bob Bob Ricard (BBR). BBR combines traditional English staples with the famed artistic manner of its location, to form a uniquely SoHo style of English diner cuisine.

Distinctive luxury design elements inherent in the retro diner booths, extravagant chandeliers, lavish mirrors, and marble finishes carry out the tasteful experience in every possible detail. The eccentricities of the menu blend harmoniously together with the Venetian-mirrored ceiling and cubist chandeliers, and with designer David Collins at the helm, the attention to detail is remarkably visible in every aspect of BBR.

The playfully sophisticated English-themed menu, created by Head Chef James Walker, gives patrons a chance to relive the classics with a modern twist, perfect for the lively inhabitants of SoHo. Food takes center stage with classic English offerings of streaky bacon (possibly the only British product better than a Rolls-Royce), tinned tomatoes, BBR bubble & squeak, as well as more modern interoperations of BBR Beef Wellington, scallop & shrimp pie, and caviar blinis.


Diners can order what they want, when they want it, any way they can think of; from the time BBR opens its doors, until they close, patrons can choose from the full menu, including a full classic English breakfast, a great option in the midst of a city that never sleeps.

No English diner would be complete without a plethora of tea, and of course Bob Bob Ricard provides and extensive tea list, along with several milkshake flavors, fruit juices, and many other hot British-style beverages. BBR also offers a huge selection of sweets on their dessert menu. From BBR chocolates, to rhubarb jelly, and even several soufflé varieties, anybody with a sweet tooth is sure to find a satisfying ending.

The bar at BBR is a scene in itself. Located in the basement, the bar offers a wide range of wines, champagnes, spirits, and cocktails. And to fit with the extravagances of the menu, bar goers will be pleased to find some uniquely BBR refreshments such as the BBR Botanical, or the Whisky Honey Cup. Bar snacks and smaller versions of the menu items are also available here.

From the curtain-divided booths, to the dark wood lined walls, Bob Bob Ricard conveys a unique luxury diner ambience with a modern English twist, aptly located in the artsy neighborhood of SoHo. Eccentric details like the Champagne Trolley, which can be called upon at the touch of a button at every table, makes BBR a place that is wonderfully charming in its nostalgic menu and creative diner look.

For JustLuxe Carly Zinderman
Finding the best in luxury can be a daunting task, which is why we've taken it on for you.