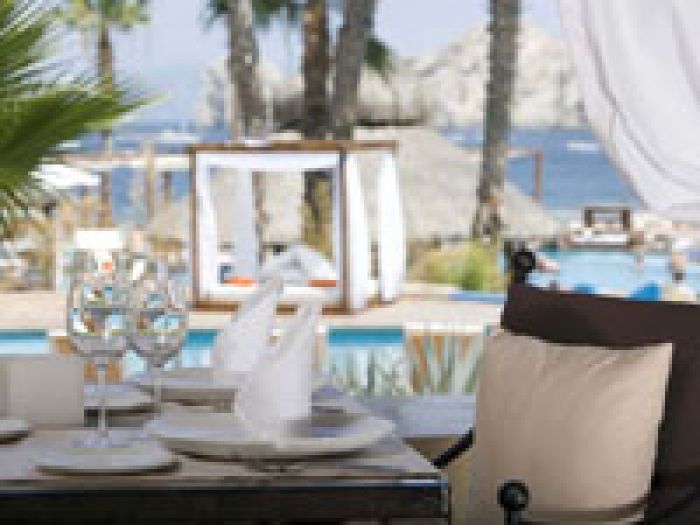 Fine Dining:
As part of the ultra chic and stylish ME by Meliá beach and spa resort located in the action epicenter of Cabo San Lucas, Mexico,
Nikki Beach restaurant
is itself an esteemed destination among resort guests and visitors alike for world-class international dining al fresco.


Close enough for diners to hear the waves crashing onto the Médano beach shore and to smell the fresh sea air from the Sea of Cortez just beyond, Nikki Beach restaurant overlook's ME Cabo's stunning decorative cobblestone terrace, Opium day sunbeds, and two swimming pools also with a direct sightline to the swim-up bar situated therein.

Although breakfast is also served at Nikki Beach restaurant, I recently visited the eatery for both lunch and dinner. By day, the outdoor restaurant is shaded from the tropical sun with cream-colored linen drapes while at night the canopy is pulled back to reveal the evening sky, with lanterns rendering a luminescent ambiance. As with most of the furnishings throughout ME Cabo's outdoor spaces, the restaurant's rustic yet contemporary décor, largely comprised of a teak deck and lovely weathered wood furnishings, blends perfectly with the nature that surrounds it.

Praised both for its culinary interpretations of Asian and Mediterranean dishes and attentive service, the restaurant offers an eclectic array of dishes that pay homage to its seaside locale and the discerning palates of its patrons.

Nikki Beach restaurant offers a full lunch menu of appetizers, salads, sushi, Panini sandwiches and entrees. To start, my party ordered the extremely tasty shrimp cocktail served marinated in cocktail sauce and skewered in a slice of grilled pineapple. We also enjoyed the bufala salad with fabulously fresh buffalo mozzarella cheese accompanied by heirloom tomatoes, basil and a pesto drizzle. Other starter and salad standouts include the crispy pita bread stuffed with white fish and scallop ceviche, and the grilled fresh pear, pineapple and goat cheese salad served atop a bed of lettuce.

The restaurant's lunchtime sushi selections were surprisingly bountiful, with many of the inventive seafood, vegetarian and fruit rolls incorporating local flavors. Ever a sushi fanatic, I could not resist. My party ordered, a la carte, the Maine lobster roll with roasted fennel, mango, avocado and masago; the spicy tuna roll with diced tuna, avocado and asparagus; the dragon roll with salmon, avocado, cucumber, green onion, cream cheese, and coated with ginger oil; the caprese roll with sundried tomato, fresh cheese, basil and pinion; and a few pieces of desperately fresh and flavorful scallop sushi.

All of the sushi, delivered on a beautiful hand carved wooden reptilian platter with rich aioli and spicy saracha accompaniments, was extremely fresh, the fish was nicely cut, and the rolls were well constructed. Nikki Beach also offers an array of sushi and sashimi platters, including the "Nikki Beach Special" that comes with seven sushi rolls -- vegetable, eel, shrimp, crab, salmon, tuna and spicy tuna -- along with twelve pieces of chef's choice sashimi.

If sushi is not your thing, don't fear as Nikki Beach offers many exciting lunch entrees. Highlights include the leg of lamb panini with centeno bread served and with fresh vegetables; fried Asian salmon accompanied with chambray potato, rosemary, papaya and kiwi relish; beef filet provolone served with linguini and red wine syrup; and Mandorla style Milanese fish covered with almonds and served with ratatouille and an organic lettuce salad. For our dessert the chef constructed a plate of delicate Petits Fours, which included the most luscious flan I've ever had, a flan layered coffee-soaked cake, and a yellow cake layered with a delicate strawberry cream. Incredibly decorative sculptured and colored sugar garnishes -- some abstract and some shaped like butterflies -- gave the dish an elegant and whimsical appeal.

So impressed I was with the food and the atmosphere at Nikki Beach restaurant that I came back for dinner the following evening. The experience lived up to my expectations.

While the dinner menu also offers an abundance of sushi options, I decided to sample the restaurant's other revered fare. On this occasion my party started with the St. Tropez wild salmon and crab cake with sautéed vegetables and topped with a lobster bisque; and grilled scallops -- cooked to a perfect medium -- served with a mound of sautéed mushrooms, arugula and lemon. Other salacious starters on the menu include the shrimp Marabella sautéed in extra virgin olive oil and infused with chili, shaved garlic and parsley; and beef kabobs served with spicy peanut and sesame sauce.

Salad selections also abound on the Nikki Beach dinner menu. Among the more notable is the seafood salad -- a mix of vegetables, olives, calamari, shrimp, mussels, and scallops all marinated in a white wine and olive oil vinaigrette; and the salmon and scallops carpaccio, accompanied with garlic whipping cream, baby lettuce, guajillo chili pepper and basil oil. Our party opted for the classic Caesar salad with chicken. The romaine lettuce was crisp and firm, and was not overly dressed. The grilled marinated chicken diced and tossed therein was appropriately moist and flavorful.

Entrees offer a range of vegetarian, seafood and meat selections. I chose the grilled lobster that, although split down the middle, was propped and plated vertically for a dramatic presentation. The lobster meat was very sweet and succulent to the extent that I barely dipped into the drawn butter served alongside. The lobster was paired with an assortment of fresh grilled vegetables. The far richer Lobster Thermidore - grilled lobster topped with a browned creamy cheesy mixture of cooked lobster meat, egg yolks, and liquor -- is an alternate lobster entrée offered at the restaurant. Another in my party opted for the sea bass that was on special that evening, which was grilled to perfection such that the desired taste and texture of this delicate fish was duly maintained.




Other standouts of particular interest on Nikki Beach's dinner menu include the Pankoco shrimp served with risotto rice, shiitaki mushrooms, fresh coconut and a mango sauce with horse radish; New York strip steak in a roasted shiitake and garlic cabernet sauce served alongside an array of vegetables and au gratin potatoes; and the grilled veal chop with mashed sweet potatoes and asparagus.

Although a full and quite impressive dessert menu is offered, my party decided to keep it simple and ordered chocolate ice cream with a side of diced strawberries to mix in. To add flair and dramatic effect to even this simple dessert selection, the scoops were served in large, elegant martini style glassware with fudge drizzled around the plate used as a base.

In all, I found this restaurant to be a fantastic combination of relaxed outdoor beach resort atmosphere, fine dining-caliber service and gratifying global cuisine. If you're planning a trip to Cabo San Lucas, Mexico, do yourself a favor and book a reservation for lunch or dinner -- or both -- at Nikki Beach.

For more information, visit www.nikkibeach.com.

- Merilee Kern
JustLuxé.com's "The Luxe List" Executive Review Editor

The Luxe List product, service and travel review editor Merilee Kern scours the luxury marketplace for new and captivating "musts." Submissions are accepted via e-mail at Merilee@JustLuxe.com. View all of Merilee's Luxe List articles here (scroll to page bottom).