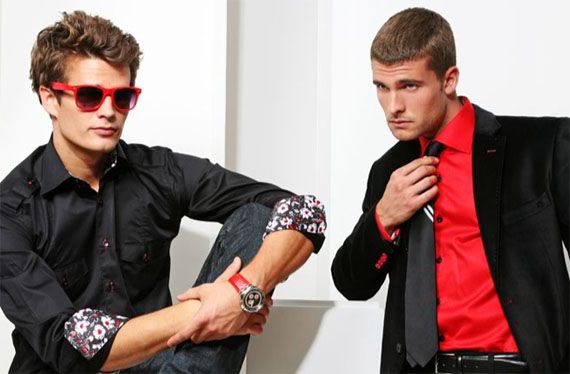 Fresh off
Chicago
Collective at Merchandise Mart is the Stone Rose Britto Collection.
Style. That's what the Stone Rose collection has. Say bye-bye to boring and, hello to cool and sexy menswear. The Stone Rose collection has that "wow" factor. Designed for the fashion-forward male, these shirts and blazers are created for men who must look good whether at work or at play.

The shirts are created with over-the-top coolness and details like collars with contrasting colors and patterns inside, straight collars and, contrasting buttons and cuffs. The hot blazers are extra cool with contrasting piping along the lapel and pockets. These are definite must-haves for the male wardrobe.


Shai says he designs and creates all the products using new cutting edge materials with synergies of new colors always fitting comfort in with the look. He says he uses a lot of 100 percent rich cotton fabrics to create his fabulous line, but does not limit himself and experiments with a lot of different fabrics in interesting ways.

Growing up with a father in the apparel industry, Shai tried resisting going into the family business, the apparel industry. He finally stopped resisting and here he is today making these fabulous collections of mens' shirts. Shai says one of the reasons he resisted so long is because while growing up, he saw the industry as being very tough and competitive. But, in 2002, he kind of fell into the fashion industry.

At age 24, he started his first menswear shirt company. He started creating new styles with interesting color combinations, and says working in the fashion industry now allows him to be creative and expressive with his product designs.

Starting out as a designer, Shai needed to establish production of his clothing line. So, he and a partner went to Istanbul, Turkey, because Istanbul is renowned for their craftsmanship in the men's shirt market. Going to Istanbul, Turkey soon became and adventure in shirt-making production.

Regarding his foray into the world of mens shirt production, Shai said, "We would walk up and down the most bizarre areas with heavy bags on our shoulders in intense heat. We found ourselves in places we had never seen before. For example, some places had bathrooms which were a hole in the floor! We got to explore different countries and cultures in the most unexpected ways.


Because neither of them spoke the native language, they hired a translator who followed them around Istanbul to help communicate their production desires to the local factories. Shai and his partner brought along samples of the shirt designs they wanted produced and would show them to the workers in the factories.

Shai says the workers would respond with "yes, yes, yes," to every statement or question posed by the translator about making the shirts. Happy the conversation exchange between the translator and manufacturer had gone well, Shai and his partner thought everything was fine. But, when they received the first samples (and they were all made wrong), they realized the manufacturer had not understood a single thing, and apparently the translator did not understand them either! They quickly realized communicating your fashion concepts in Turkey was much harder than they had expected.

What's the lesson here for the rest of us? Lesson number one: Make sure you understand the language of the country, just a little. Lesson number two: Make sure the translator understands both your languages, more than just a little!

When asked who his mentors in the industry are, Shai said, "My father has been my greatest mentor, teaching me to always be a step ahead and to keep my head up but I have also met numerous special caretakers in my life that have taught me many great lessons. The best advice that keeps me going on no matter what the situation I was going through was 'It doesn't matter how many times you fall, it's how fast you get back up.' If I could give one piece of advice to someone, it would be: Sometimes you have to lose to win, and always laugh!"


Shai's advice to up-and-coming designers is: You must have originality and be an imaginative spirit with guts. You have to dare to be different and try new things. You must also be very thick-skinned. The fashion industry is always criticizing and ready to run you over.

Shai says fashion is a great way to express yourself and show others who you really are. He describes his style and collection as, "Style based on the 'live in the now' mantra, that is easily transitioned from desk to dinner."

Shai's perfect celebrity to design for would be Matthew McConaughey because what you see is what you get. If Shai was not designing his fabulous menswear line, he would be a philanthropist.

The Stone Rose collection ranges in price from $139 to $395. View the collection at: www.stonerose.com

Via Examiner.com