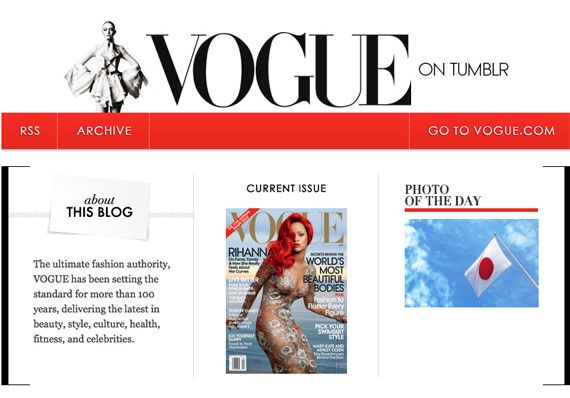 Combining the layout and mixed-media potential of a blog with the efficiency and built-in community of Twitter, Tumblr has officially become the new new media platform of the fashion industry.
Though launched back in 2007 and now featuring thousands of sites encompassing myriad subjects, the micro-blogging network has gradually proven to be an ideal platform for both
fashion brands
and amateur fashionistas alike due to its visual emphasis and visceral appeal.
Last fall, Tumblr founder David Karp told TechCrunch that he hopes to see the network become "the best place in the world for the best creative communities." And, just months later, it looks like this is increasingly the case. Tumblr sites dedicated to style, design and fashion account for an overwhelming percentage of the platform's use — 20 percent of the top 1000 Tumblr blogs, to be precise.
These sites naturally vary from personal style blogs to street fashion spotters to vintage aficionados, but such variety and prolificacy simply reflects the potential that the platform represents.
On the brand end of things, for instance, the masterminds behind Alexander McQueen's youth-oriented line McQ saw Tumblr as a mirror for McQ's implicit message of self-expression. "The core of McQ's brand value lies in youth culture so it is important for us to speak to the younger audience through platforms that are routine to them," explains Jonathan Akeroyd, CEO of Alexander McQueen.
"This is a fresh and innovative way of communicating where we get to interact with the audience directly. Through social media we forge relationships and get them involved with McQ's creative world." As a result, McQ strategically launched its spring/summer '11 collection via a road trip-themed photo narrative on the label's
Tumblr page
.
Although Tumblr users are given the option to upload text, links, audio and video, the overwhelming majority of the content consists of photos. Unsurprisingly, this has proven to be highly compatible with the fashion industry's own image-heavy emphasis.
"Tumblr has struck a chord with the fashion community because, like fashion itself, the platform is both immediate and highly visual," Vikram Alexei Kansara observed in an article on Tumblr's rise for The Business of Fashion. As such, everyone from powerhouses like Vogue to newcomer prodigies like Tavi Gevinson have launched their own Tumblr accounts.
Given the simplicity and straightforward access that Tumblr affords, it's easy to see why it has been embraced within the new democratized ideal of fashion. Whether a playground for pure passion or a more demographic-oriented marketing platform, Tumblr reflects the same expressive compulsion that also characterizes the fashion industry's inherent creativity.
Via
JC Report