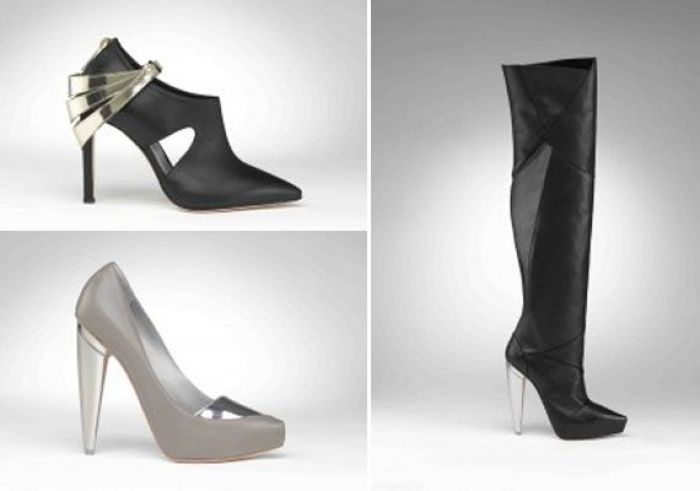 Shoe designer Gio Diev stumbled into a job at one of the world's most prestigious fashion houses almost by accident. After friends and fans encouraged him to pursue a career in fashion because of the unique, one-of-a-kind custom outfits he was seen wearing around
New York's Lower East Side
, Metdiev landed a job in package design at none other than
Chanel
.
Stints in PR for Fendi and Dolce & Gabbana eventually followed, but Metdiev secretly harbored a vision for creating his own line, a dream that has now been realized in his namesake shoewear line.
In preparation for his new venture, Diev learned everything he could about shoemaking: he apprenticed at a shoe factory in Northern Italy as well as at local tanneries, soaking in every detail during the day and sketching his shoe line at night.
Launched in 2010, Gio Diev shows strong architectural influences and graphic elements from his background, most notably the screw bolts that adorn a great deal of the collection. These custom-made, tiny hardware details lend a "built tough" sensibility and play on his armor-inspiration throughout the line.
Diev hand-sculpts most aspects of the collection—including the lucite, blade-like heels with a transparent top lift as well as the crown proportion, all of which evokes a weaponry feel of its own. "Shoes are so expressive and can channel so many different emotions and personalities," Diev explains. "It's almost like writing a play with different characters."
"My goal was to create shoes that spoke of confidence, strength and a bit of mystery." A wide variety of textures and materials — from grosgrain ribbons to capretto, napa to specchio, velvet to patent — are layered over this fierce attitude in a sophisticated palette that ranges from silver and bronze to soft grey, plum and midnight blue.
Currently valuable at Edon Manor,
The Wynn Las Vegas
and Hirshleifers, Diev's price point ranges from $795-$2000. Luxury, yes, and solidly built, no doubt.