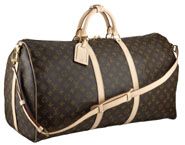 By Lauren David Peden
for Fashion Wire Daily
Stylish travelers have long been known for their luxe luggage - think Wallis Simpson's monogrammed steamer trunks or, more recently, the Louis Vuitton logo suitcases favored by modern day jetsetters such as Naomi Campbell, Uma Thurman, Sean Combs and Lindsay Lohan.
Just as dressing up before boarding a plane imparts a sense of class and confidence - and is more likely to score you a free upgrade than if you were decked out in an old sweatsuit - a nice piece of luggage also announces that you're a person of taste and style and encourages others to treat you accordingly.
Hamish Bowles, Vogue's well-traveled European Editor at Large and a man renowned for being a dandy, said via e-mail that he favors a purple canvas T. Anthony bag because "it is a glorious color and easy to identify on an airport carousel," but that his pride and joy is black-and-white cowhide weekender he found in
Buenos Aires
. "I have endless compliments on it at airports," he said. "And it weighs a ton, so it's also a useful workout tool!"
Bric's recently introduced a line of handsome high-end leather luggage that would certainly meet with Bowles' approval, including a tobacco-hued wheelie bag with chunky silver hardware and a leather-trimmed canvas carryall with a handy zippered shoe compartment to keep your soles from soiling your clothes. Louis Vuitton's Monogrammed Canvas Keepall and Trolley are the epitome of jetset chic - though after buying this luxe set, you might not have enough money left over to actually travel.
If your style is more athletic and your budget more earthbound, Lacoste's just-launched Sports Retro is an old-school looking line - including a tennis bag, weekender and wheeled trolley - in primary and neon colored canvas, while Victorinox/Swiss Army's new Tourbach collection, which launches in September, boasts many never-before-used luggage technologies, from the Swiss-engineered Performax exterior fabric to heat-fused YKK zippers to competition-grade inline skate wheels. There's even a Tracking Registration System, so your luggage will never go missing again.
"I like Swiss Army because it's rugged, doesn't cost as much as some of the other brands, and has a lifetime guarantee," said Laura Begley, style director of Travel + Leisure and editor-in-chief of Travel + Romance, when reached in her New York office.
Guys who are in the market for designer luggage but can't wait until Alexander McQueen unveils his Samsonite Black Label line in 2007 may be sated with Jack Spade's sleek Waxwear Fabric Duffel, which will also be available in a dressier herringbone tweed - inspired by a 1970s-era Hartman suitcase - come fall.