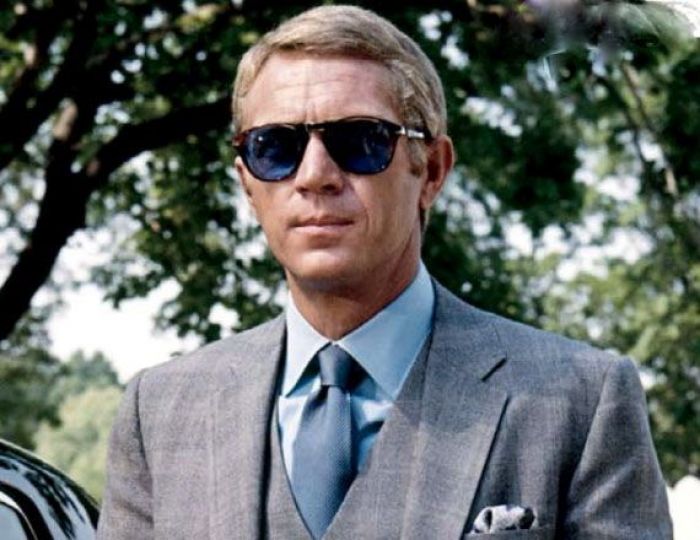 Photo Courtesy of Persol
Legendary Italian
eyewear brand
Persol has launched a new exhibition celebrating craftsmanship in film. Persol made its big screen debut in 1961 worn by Marcello Mastroianni in
Divorce Italian Style
, and its U.S. film debut in 1968 worn by Steve McQueen in
The Thomas Crown Affair
(above).
Two of the most stylish stars in the history of cinema helped catapult the brand onto the international scene. Other stars who have worn Persols over the years on and offscreen include Jack Nicholson, Richard Gere, Paul Newman, Roberto Rossellini, Cindy Crawford, Nicolas Cage, Pierce Brosnan, Brad Pitt, Angelina Jolie, Christian Slater, Catherine Zeta-Jones, Heath Ledger, Al Pacino, George Clooney, Adrien Brody and Daniel Craig, who sported two different styles in
Casino Royale
.
The exhibition, "Persol Magnificent Obsessions: 30 Stories of Craftsmanship in Film," celebrates "the obsessive craft, passion and dedication that go into making great films, from an actor's immersion in character research to the precise detailing of a costume designer." The 30 stories echo the meticulous 30 manual steps that go into creating each pair of Persols.
The exhibition, which opened in New York and is traveling to Paris followed by Milan, features items from films including
Blue Velvet
,
La Dolce Vita
,
Darjeeling Limited
and
The Diving Bell & the Butterfly
. Visit
Persol.com/USA
to learn more.