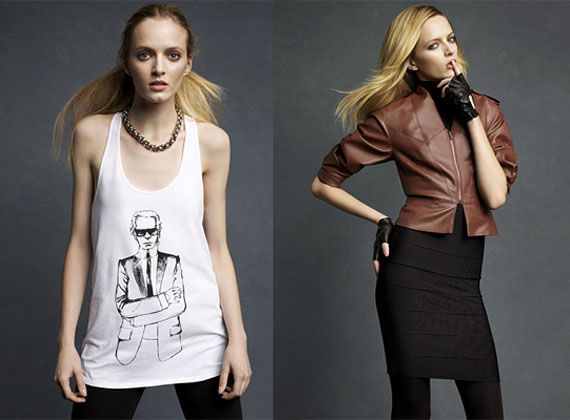 Photo Courtesy of NY Mag/The Cut
Karl Lagerfield
has branched out way beyond the usual boundaries of haute fashion, directing commercials for premium ice cream and collaborating with just about every company possible. Now he's returning to fashion but with a twist. The silver pony tailed head of Chanel and his own namesake line is allowing his clothing to be shown at Macy's.
While Macy's may not seem like the perfect place for someone of Lagerfield's stature in the fashion community, the maestro himself thinks there is nothing unusual about it saying, "It's the perfect department store in the U.S., where everybody can find what they're looking for without ruining their budget."
The 45-piece collection, ranging in price from $50 to $70, is launching in 235 Macy's stores and online August 31. And just so you know that the leather loving Lagerfield isn't phoning it in, "you can see...from a distance and know they're Karl's," Macy's Inc.'s chief merchandising officer, Jeff Gennette, told WWD. "Some of it customers will get right away - some of it will be a reach."
The Macy's line includes Karl signatures, like structured jackets, tuxedo silhouettes, high collars, tweeds, and graphic tees as well as floral dresses. If you really want to advertise for Karl's latest project, check out the tees featuring a sketched likeness of the self-proclaimed fashion icon.
So what do you think of Karl's foray into contemporary wear? Tacky? Or is nothing completely unexpected from one of the fashion world's biggest multitaskers? Check out the complete collection at
NYMag.com
.