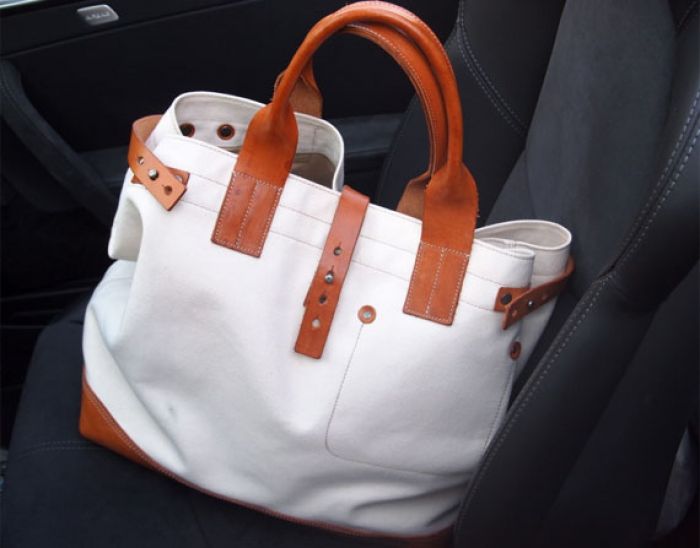 Photo Credit: Jared Paul Stern & Levi's
Levi's has made several forays into the land beyond
denim
, but its burgeoning Made & Crafted collection is the one that looks set to achieve cult status among the style cognoscenti. In order to bring a fresh perspective to the classic American workwear that made the Levi's label famous, the design HQ for the new line was established in Europe.
With the motto "Modern items based on the principles of good design," Made & Crafted offers a luxurious, modern twist on iconic items inspired by vintage pieces in the vast Levi's archive. Of course, other designers have long used vintage Levi's items to inspire their own creations, with results sometimes bordering on sartorial plagiarism.
The quality, materials and construction of Made & Crafted are of the highest order. Their capacious canvas and leather tote bag, assembled by artisans in Italy, bears all the hallmarks of a luxury label like Hermes, yet with an unmistakably American heritage feel. Pictured here riding shotgun in the new Porsche 911 Carrera GTS, it's a compelling combination of fresh, modern style and old-school rugged functionality, designed to improve with age and wear.
Think of it as the perfect juxtaposition of toughness and elegance, like a sleek Italian yacht docked at the Brooklyn Navy Yard. For Autumn 2011, the line's second full season, Made & Crafted has expanded its offerings to include knits, shirting, and a special capsule collection of "Made in the USA" denim. Check out
LevisMadeAndCrafted.com
to see more.