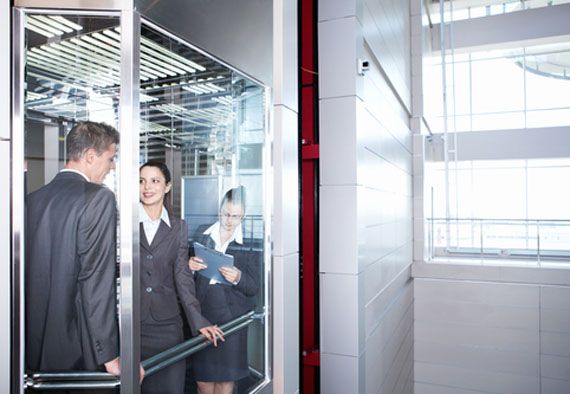 Twitter Account Takes Us
Inside Condé Nast Headquarters
Fact is stranger than fiction? Well, in the case of life at
Vogue
's headquarters in New York it may well be that fact is exactly like fiction. When
The Devil Wears Prada
was released in 2006, based on the 2003 novel of the same name by Lauren Weisberger a former assistant to
Vogue
Editor in Chief, Anna Wintour, the world wondered whether working at the world's number one
fashion magazine
was all bitchiness, entitlement and a permanent diet. Surely, people said, we must allow for some dramatic licence? Apparently not.
August 6 an account popped up on Twitter, @CondeElevator purporting to reveal conversations that take place inside the elevator at Condé Nast's headquarters in New York and it has since taken the fashion media by storm. Some of our favourite Tweets include:
Girl 1:
"Is this skirt totally see through?"
Girl 2:
"No! No! Looks great."
Guy, after they exit:
"That skirt was totally see through."
Woman 1 to Woman 2, holding an omelette:
"What's the occasion?"
Woman 2:
"...huh?"
Woman 1:
"I would need an occasion to eat that."
Teen Vogue-er to Teen Vogue-er:
"I don't understand why she was so pissed. I'd want to know if something made me look fat."
Fashion Girl Fl 12:
Do these shoes make me look like I have cankles?
Fashion Guy:
No, they just have really fat straps.
Girl 1:
...so I'm getting a Keratin treatment.
Girl 2:
oooh
Girl 1:
I'm not worried. I shouldn't be, right?
Lady 1:
Well aren't you in a hurry? [air kisses]
Lady 2:
[air kisses] My heli to East Hampton's leaving in 10!
Girl 1:
Hiii, how are you honey?
Girl 2:
fineee
Girl 2 (3 secs later):
This girl is such a bitch.
Summer Intern:
My driver had SUCH a bad attitude. I was like, "don't complain to me, I didn't eat lunch either! You think I eat clothes?"
Girl 1:
There should be an elevator that only goes to
Vogue
. Just up to the 12th floor and back down.
Girl 2:
totally.
However, the fun may all ready be over. Despite reports suggesting that the publishing house was not overly concerned with uncovering the identity of the anonymous Twitterer a post appeared stating,
Girl or Guy 1 [in elevator alone]:
This got really crazy. Love my job. Better stop. #sorry.
So, is that it for the Condé Twitterer? It certainly seems so, which is a shame as it is a rare opportunity for those on the outside to get a true glimpse into day to day life in these worlds.
Nevertheless while media reports have suggested the publishing house was not overly concerned this may not have been true on the inside especially with the @CondeElevator account boasting more followers than some of the company's own magazines.