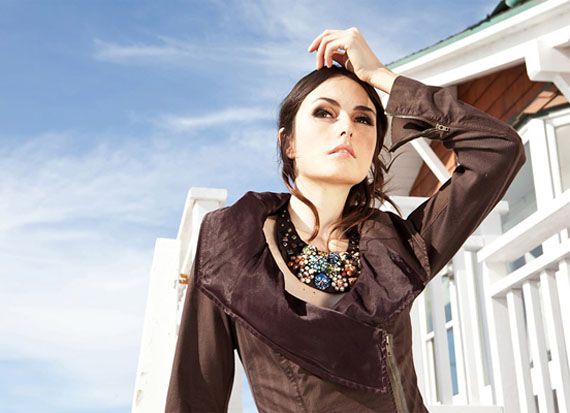 Photo Courtesy of Burning Torch
Despite advancements in technique, recycled, up-cycled and
green fashion
designs still get a bad rap for being too earthy. You'd never know that Burning Torch was amongst the brands on the up-cycled fashion frontier, with the luxe materials and copious beadings found in each comely piece.
Founded in 1999 by designer Karyn Craven, Burning Torch's debut collection found an immediate buyer at Barney's New York, where shoppers fell in love with distinctive silhouettes, newly developed fabrics and treatments, as well as unique hand-detailing. The elegant details and beading has led to a worldwide fashion following of people who love Craven's dedication to vintage, modern, organic and global sentiments in Burning Torch designs.
Always looking for new ways to celebrate style and sustainability, Burning Torch has launched a new digital age, including a
fashionable blog
curated by top celebrity stylists Anita Patrickson, Ashley Avignone, Caley Lawson, Deb Waknin, Jessica Pastor, Lindsey Dupuis, Nicolas Bru, Rebecca Resnick, Sean Knight, Tara Swennen and Taylor Jacobson.
Burning Torch's complete collection, including up-cycled vintage pieces with new silhouettes are much more glam than green. Recycled cashmere cardigans and comfy coats are available just in time for the chilly weather and are perfect for the upcoming holiday season.
With fun jewelry, frilly frocks, luxuriously soft sweaters and other key pieces, Burning Torch strives to keep girls glowingly glam all through the year. The new blog serves up just the right touches of inspiration to make any up-cycled piece new and fresh for the modern woman. Visit
BurningTorchInc.com
to see more styles.
Recycled Vintage Wrist Cuff
Recycled Cashmere Cardigan
Recycled Cashmere Vest and Tube Scarf
Recycled Cashmere Coat, Recycled Cashmere & Lace Vest, Cashmere Meets Fleece Dress, Recycled Cashmere Fingerless Gloves